WELCOME TO THE official
UNITED IN GROUP HARMONY ASSOCIATION
WEBSITE
DEDICATED TO PRESERVING CLASSIC RHYTHM AND BLUES MUSIC
The United in Group Harmony Association was formed in 1976 by it's founder and president, Ronnie Italiano. UGHA is a non-profit, tax-exempt organization that is truly dedicated to the preservation, exposure and education of authentic vocal group harmony music (R&B, Pop, Spiritual, Jazz Vocal and Acappella). UGHA provides the opportunity to see the groups and hear the music that is seldom or never heard on commercial radio.

UGHA has become a family of devoted supporters in the New York City metropolitan area and appreciative members across the country and the world. Meetings are held at the Scheutzen Park Banquet Hall located in North Bergen, New Jersey.

The monthly meeting/shows and other UGHA sponsored shows have been videotaped over the past 18 years and include a "who's who" collection of classic performances by some of the greatest Rhythm and Blues performers. These videos are only available to UGHA members which is a great reason to join the organization.

We depend upon our membership and guests as the sole source of revenue to continue the long standing tradition of providing the opportunity to see and hear vintage vocal groups at our meetings. Although UGHA currently exceeds 2000 people, we are always looking to increase our membership.

So, take a look at the UGHA website and you will get a good sense what the organization is all about and what it has achieved over the past 26 years thanks to it's members and founder and president .............................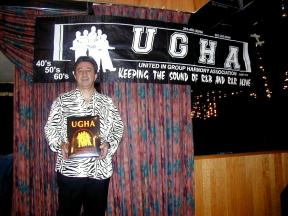 This Website is best viewed with