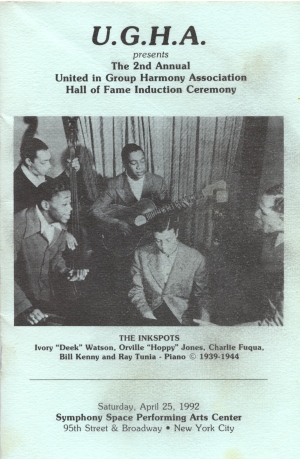 Channels
by Ronnie Italiano
Time flies but perpetually youthful lead and falsetto tenor of The Channels, Earl Lewis is still enjoying popularity in 1992 on the oldies circuit with his Channels (some members being part of the group for 20 years already). Let's go back to the inception: 1955, when Earl Lewis and bass Clifton Wright sang with a group called The Lotharios from Central Harlem. 14-year old Earl Lewis and his group practiced in the Community Center on 101st Street. Soon their reputation spread throughout the community and they were approached by three members of a group called The Channels who were looking for a new lead and bass. From 115th and 16th Streets: Ist tenor Larry Hampden; 2nd tenor Billy Morris and baritone Edward Dolphin easily convinced Lewis and Wright to join The Channels.
After performing in school talent shows and winning 2nd place at the Apollo Amateur Night with the song "The Magic Touch," with confidence, The Channels auditioned for Bobby Robinson. Robinson, noted record store owner and entrepreneur saw talent in that audition in the spring of 1956. By July of 1956 Robinson had formed his new Whirlin' Disc record label making the Earl Lewis original composition "The Closer You Are" its first release (#100). "The Closer You Are" b/w "Now You Know" became a hit, and today remains a top NYC 1950s oldie. The Channels' second release (late fall of 1956) for Whirlin' Disc, "The Gleam In Your Eye" b/w "Stars In The Sky" met with local success. Two more Whirlin' Discreleases followed in early 1956: "1 Really Love You" b/w "What Do You Do" (2 versions) and "Flames In My Heart" b/w "My Loving Baby. " Although for the last 30 or so years, these have been considered classic recordings by collectors, they only received modest acclaim in 1957. The Channels then moved to audition for George Goldner and Richard Barrett.
After signing with Goldner to record for his "Gone" label, Goldner suggested The Channels rearrange the pop standard "That's My Desire" to fit The Channels style. Upon its release in the summer of 1957, "That's My Desire" received immediate airplay and again The Channels were on the hit track; this time with a major R&B label. Unfortunately their follow up on Gone, released in January of 1958, "Altar of Love" b/w "All Alone" received a very weak response.
A year later The Channels recorded again with Bobby Robinson for his "Fury" label. The Channels finest release "My Love Will Never Die" b/w "Bye Bye Baby" (Fury #1621) hit the charts by the spring of 1959. In late fall of 1959 Clifton Wright and Edward Dolphin were replaced by Billy Montgomery and Alton Campbell (both formerly of The Cellos) for the last Channels release for Bobby Robinson, "The Girl Next Door" b/w "My Heart Is Sad" (released as "Fire" #1001).
In 1971 Earl Lewis revived The Channels with three new members and recorded for his own "Channel" label. Six excellent 45s and two LPs followed with the most prominent release being Earl Lewis & The Channels' version of "Gloria." By the mid 1970s Earl Michael Lewis, picked another set of Channels. Of them, Joe Odom remains a Channel and Cecil Wiley passed away a couple of years ago. The other members of today's Channels are Wes Neal, Jack Brown and Sala Huddin.
Tonight We honor the original Channels who personified classic NYC streetcorner R&B harmonv.

The Five Keys
by K.J. O'Doherty
When the honor roll of R&B vocal groups is called, near the top is the quintet from Newport News, Virginia ‑ the fabulous Five Keys. Since their birth as Oriolesinspired harmonizers, The Five Keys have become a national institution. Blessed with some of the finest voices ever to join in harmony: Rudy West (tenor/lead supreme); Maryland Pierce (the best blues shouter ever in a vocal group); James "Dickie" Smith (obviously inspired by George Nelson [Orioles], but with songwriting talent too!); and Rernie West (the superb bass who holds the harmony together) - The Five Keys define the term "R&B legends !!!!
From modest beginnings in their native Newport News, VA, The Five Keys recorded a body of work perhaps unrivaled in R&B group history. Their original recordings for Aladdin Records are amongst the purest examples of rhythm & blues vocal harmony. Such classic sides as "With A Broken Heart," "Teardrops In Your Eyes," "Too Late ... .. The Glory Of Love," "Yes Sir That's My Baby," "Red Sails In The Sunset ... .. These Foolish Things ... .. Mistakes ... .. It's Christmas Time," and let's not forget, the UGHA-favorite driving blues masterpiece "My Saddest Hour" are part of the Aladdin Five Keys monument to excellence. Long sought after by collectors and revered by singers, The Five Keys on Aladdin Records could easily be considered the greatest group of all time.
Following their stint as R&B originals on Aladdin, The Five Keys moved to Capitol Records. With Ramon Loper replacing Dickie Smith, The Five Keys would record in a pop/rock & roll genre with more elaborate musical arrangements. To earlyR&B purists, the Capitol material is arguably less impressive than the material on Aladdin because of its musical expatiation. The Capitol years yielded such hits as "The Verdict," "Ling Ting Tong ... .. Close Your Eyes ... .. Out Of Sight, Out Of Mind" along with treasures "I Wish I Never Learned To Read ... .. Wisdom Of A Fool," "My Pigeon's Gone ... .. She's The Most" and "I Dreamt I Dwelt In Heaven. "
The end of the 1950s saw Rudy West enter semi‑retirement. In 1959 The Five Keys (Maryland Pierce, Bernie West, Dickie Smith, Ramon Loper, and Rudy West clone Thomas Threat) recorded for King Records. Maryland Pierce would continue the tradition touring the black theatre circuit during the soul era (Ramon Loper, Gene Moore, Raymond Haskins and Daytill Jones - this is the group photo that appears on the Aladdin CD).
In the 1970s Rudy West performed at revival shows with The Chateau.3 (Warner Bros.) as his new "Keys." In 1983 the short-lived Black Swan Society reunited Rudy, Maryland, Bernie, Ramon and Ripley for a concert. The closing of the 80s marked three (3) Five Keys compact disc releases (Aladdin, Capitol and King material) plus the release of a "lost" RCA session, "I'll Follow You ... RCA Rock & Roll Party, Volume I" on CD.
As amazing as their musical accomplishments during the last 41 years, is the fact that tonight UGHA has brought together for the first time since 1955, the five original Aladdin Five Keys: Bernie, Dickie, Maryland, Ripley and Rudy.

The Flamingos
by Phil Groia
No Hall of Fame honoring the golden age of the Rhythm and Blues vocal group would be complete without the induction of this quintet from Chicago. The Flamingos were noted for their versatility, recording longevity, floating high-pitched harmonic backgrounds, infectious jump tunes, exciting choreography and classy stage outfits highlighted by their famous green suits.
The group began when cousins Zeke Carey and Jake Carey met first tenor Johnny Carter , baritone Paul Wilson and lead Sollie McElroy. They were discovered at a Southside nightclub where they were adapting Hebraic harmonics learned in Chicago's black synagogues to the secular world of Rhythm and Blues. The years 1952‑1954, marked the first stage of Flamingos' recordings for Chicago's Chance and Parrot labels. The Flamingos established themselves with "Dream of a Lifetime," That's My Desire," "Jump Children," "If I Can't Have You" and the immortal "Golden Teardrops."
In 1955, the distinctive golden voice of lead vocalist Sollie McElroy was replaced by Nate Nelson as the Flamingos were signed by Checker Records. The Chess brothers who owned Checker had such little confidence in Nelson's voice that the Flamingos' first release featured Johnny Carter on the back street rocker, "That's My Baby." In December, just prior to a New York stage show promoted by dee-jay Tommy "Dr. Jive" Smalls, Checkers released "I'll Be Home" featuring the "voice of champagne," Nate Nelson. Nelson carried the group through their second stage of hits with "A Kiss From Your Lips" and "Would I Be Crying."
After a brief stint at Decca in 1957, the Flamingos reformed as a sextet for George Goldner's End records in 1958. Tommy Hunt and guitarist Terry "Buzzy" Johnson were added to Nate, Paul and The Careys. All of the Flamingos now played instruments making them one of the first self-contained R&B vocal groups. The accent at End was on a polished pop sound including "Mio Amore," "I Was Such A Fool" and "Goodnight Sweetheart." Bringing international acclaim to the Flamingos were Paul and Terry's duet on "Lover Never Say Goodbye" and Nate's famous interpretation of "I Only (Doo-Bop-Shoo-Bop) Have Eyes For You."
The two Flamingos most responsible for theatres filled with screaming females, Nate Nelson for his voice and Paul Wilson for his self-taught choreography and romantic monologues are no longer with us. We are here tonight to honor all of the Flamingos, a group who gave dignity and class to a period in our musical heritage once known as the bird group era.

The Ink Spots
by Charlie Horner
"If I Didn't Care," "Maybe," "We Three," "The Gypsy," "Do I Worry", the hits come easily as the velvet voice of Ink Spots' tenor Bill Kenny floated from song to song. Not only did the Ink Spots establish such now accepted group harmony styles as "high tenor lead" ballads and "talking bass" bridges, they became only the second black vocal group (after the Mills Brothers) to cross racial barriers and win the adoration of mainstream America. Had accurate trade charts been kept, they would have shown the Ink Spots to have over forty Top‑30 recordings in a ten year (1939‑49) period. This amazing group not only gained international acclaim but spawned an industry of imitators and influenced every subsequent vocal group from the Orioles to the Platters.
The origins of the Ink Spots can be traced back to Indianapolis, Indiana, during the late 1920s. Indianapolis at that time was a swinging place; numerous nightclubs hosted the leading jazz bands of the era. Youngsters who were not old enough to visit the clubs formed their own streetcorner "coffee pot bands" to imitate their favorite entertainers. A coffee pot band usually consisted of four young men playing kazoos into coffee pots (the bigger the pot, the deeper the resonance), a string section (banjo, six-string guitar, tenor guitar and ukulele), a washboard for a drum, and several dancers. Various members of the group also sang.
From these humble beginnings came the original four Ink Spots. Tenor Jerry Daniels' first purchased a ukulele from Sears & Roebuck, but he soon learned several instruments from other musicians. Jerry's coffee pot band was popular enough to sing commercials over the local radio station. Across the canal that ran through Indianapolis lived Charlie Fuaua. a guitar and banjo player with a local band, the Patent Leather Kids. "Jerry and Charlie" often would trade songs across the canal and eventually teamed up as a duet. They were soon performing regularly on WKBF and eventually joined a traveling vuadeville troupe called the Whitman Sisters Show.
Ivory "Deek" Watson also was a graduate of an Indianapolis coffee pot band before joining an instrumental and vocal quartet called the Riff Brothers. The Riff Brothers, who succeeded Charlie and Jerry on WKBF, also contained Orville "Hoppy" Jones. When the Riff Brothers broke up, Deek and Hoppy joined Charlie and Jerry to form first the "Swingin' Gate Brothers" and later "King, Jack and the Jesters." After doing successful weekly radio programs in Cleveland and Cincinnati the group moved to New York City in 1934 where they became known as the Four Ink Spots.
In New York City, the Ink Spots (Jerry Daniels, Charlie Fuqua, Deek Watson and Hoppy Jones) performed regularly on WJZ radio and even appeared in a movie short called "What A Business." In January 1935, the group cut their first recordings for RCA Victor, including "Your Feets Too Big." The Ink Spots were primarily singing rhythmic swing tunes and providing their own instrumentation. The group even made a five month tour of England with Jack Hylton's band.
Shortly after returning to the United States, Jerry Daniels left the Ink Spots and returned to Indianapolis. The group was getting plenty of bookings but Jerry felt they weren't getting paid the kind of money they should have been. The groups manager, Moe Gale went looking for a replacement and found an impressive young singer in Baltimore, Bill Kenny.
In 1936 the Ink Spots signed with Decca Records, a label they would stay with until the group's breakup in 1953. For the next three years, the Ink Spots recorded rhythmic "jive" songs, but without Jerry Daniels they never quite duplicated the excitement of the Victor releases. Then, in 1939, the Ink Spots tried a new approach. "If I Didn't Care" was a powerful ballad that featured the soaring lead tenor of Bill Kenny, sandwiched around a talking bass bridge by Hoppy Jones. The song was an instant success and set the formula for the Ink Spots' decade of hits. Neither the war nor the musicians' strike of 1942 lessened the Spots' popularity. When Charlie Fuqua entered the service in 1943, he was replaced by yet another alumni of the Indianapolis coffee pot bands, Bernie Mackey.
In 1944, Deek Watson left the Ink Spots to form his own group, the Brown Dots. He was replaced by musician Billy Bowen who had toured with the Ink Spots and knew all their arrangements. Hoppy Jones died suddenly in October of that year and was replaced briefly by Cliff Givens and then Bill Kenny's brother, Herb Kenny. Herb had his own vocal group but after dropping by to visit his brother while the Ink Spots were auditioning new basses, he was persuaded to take the part. Bernie Mackey also left the Ink Spots in 1944, being replaced first by Huey Long and then by Charlie Fuqua who had returned from the service. The Bill Kenny, Billy Bowen, Charlie Fuqua, Herb Kenny lineup was very successful for the next seven years, even scoring a #1 hit in 1946 with "The Gyspy.
In 195 1, Herb Kenny left the Ink Spots and was replaced by Adriel McDonald. Herb went on to record other fine vocal harmony sides for MGM (as herb Kenny and the Rockets) and Federal Records (as Herb Kenny and the Comets). In spite of numerous TV appearances in the early 1950s, the Ink Spots' era was drawing to a close. Bill Kenny became interested in a solo career and Charlie Fuqua left in 1953 to form his own Ink Spots group (King Records). Bill Kenny kept a group together (including McDonald, Ernie Brown and Jimmy Kennedy) for a short time and then went solo. Various Ink Spots splinter groups sprang up to fulfill the public's need to see the group. Many of these are still active today.

The Moonglows
by Mike Caldarulo
The Moonglows are the true definition of the term "blow harmony." With their gutsy, yet mellow harmonies, they have overwhelmingly influenced scores of vocal groups of the 1950s and 1960s. It all started 40 years ago (1952) with two childhood friends, Robert L. Dallas (Bobby Lester) and Harvey Fuqua. They had been touring the south with a big band under the direction of Ed Wiley, but they decided to move to Cleveland to pursue ambitions of forming their own group. It was in Cleveland that they met Prentiss Barnes and another vocalist, Danny Coggins.
Together they formed a quartet and named themselves The Crazy Sounds, consistent with the jazzy style they had been performing. While working the local nighclub circuit they befriended a local entertainer, Al "Fats" Thomas, who was an associate of Alan Freed. Thomas helped The Crazy Sounds by arranging an over-the-phone audition for Freed and history was made. In February of 1953 Freed took them to the studio to record for his Champagne record label. At this time Freed renamed the group The Moonglows a "play-off" of Freed's Moondog radio program. Shortly after the Champagne release of "I Just Can't Tell No Lie" b/w "I've Been Your Dog (Ever Since I've Been Your Man)" Danny Coggins left the group and Freed's label folded. Prentiss Barnes introduced Bobby and Harvey to one of his friends Alexander "Pete" Graves and he immediately became Coggins' replacement. Freed then brought the group over to Steve Chandler and Art Sheridan signing them to their Chance label.
The Moonglows recorded and released five singles over a three month period (11/53-1/54), the most popular being "Secret Love" (Chance #1152), which also was a big hit for Doris Day in that same year. They decided to leave Chance after these three short months due to disillusion and disenchantment with the minimal compensation they received for their efforts.
In October of 1954 The Moonglows signed with Chess Records and their first recording, "Sincerely" (Chess #1581) hit the R&B charts remaining there for 20 weeks, and at one point, even hit the #1 spot. Chess released a total of 28 singles including many R&B classics such as "When I'm With You," "Most of All," "In My Diary," and "Blue Velvet." It is hard to believe that it has been over a decade since the untimely passing of Bobby Lester, writer, vocal arranger, lead singer, and tutor of that true "blow harmony" which we all love. Tonight, April 25, 1992, we are proud to honor The Moonglows. Though Bobby is gone, his music will never be forgotten. We thank Harvey Fuqua, Prentiss Barnes and Pete Graves for their contributions to R&B vocal harmony music.

The Solitaires
by Phil Groia
Originally an amalgamation of members of other groups, most notably the MelloMoods, Concords and Vocaleers, The Solitaires gained fame as a solid New York vocal group for record impresario Hy Weiss and his old town record label from 1954-1960. Meeting on West 142nd Street in Harlem were Herman Dunham (lead), Bobby "Schubie" Williams (piano and first tenor), Bobby Baylor (second tenor), Winston "Buzzy" Willis (baritone), Pat Gaston (bass) and Monte Owens (guitar).
The longevity of many vocal groups from the 1950s was usually undermined by constant personnel changes. The Solitaires avoided this hazard of group singing by replacing original members with vocalists of comparable ability. In 1955 and occasionally thereafter, the gospel‑influenced lead of Herman Dunham was replaced by the operatic Milton Love. Pat Gaston was replaced by the booming basso of Fred Barksdale.
"Solid New York group" was a special term reserved for those groups whose harmonics and melody lines evoked romantic feelings of life in the inner city. The Solitaires' voices, particularly on "The Angels Sang," sounded as if they were chapel bells echoing from rooftops. It was easy to visualize the later Old Town logo of brownstones and busy streets shrouded in the shadows of the New York skyline. "Please Remember My Heart" and "My Dear" were reflective of the slow grinds danced at New York red light house parties. The Solitaires' biggest hit, "Walkin' Along," was a typical melodic uptempo New York jump where one could imagine the guys marching down the street singing to all the girls.
There are two Solitaires who have passed on , Bobby Baylor who shared duets with Milton on "The Wedding" and "The Honeymoon" and Bobby Williams who sang lead on "I Don't Stand A Ghost of a Chance." Tonight we honor them posthumously and give a "real solid New York" thank you to Milton Love, Herman Dunham, "Buzzy" Willis, Fred Barksdale, Pat Gaston and Monte Owens.

The Spaniels
by Ronnie Italiano
The Classic R&B harmony vocal groups came from all parts of this country during the early and mid 1950s, many from the DC area, many from Chicago, Detroit, New Orleans, Los Angeles, New York, Philadelphia, and elsewhere ... and then there few who bridge rhythm & blues with great styling, blend, harmony and feeling. There are those who possess a talented lead, strong harmony and a fabulous bass. I'm talking about the Spaniels!
Formed in Roosevelt High School in Gary, Indiana in 1948, Pookie Hudson & the Hudsonaires consisted of bass Gerald Gregory; Ist tenor Ernest Warren; Ist baritone Opal Courtney Jr.; 2nd baritone William Jackson; and lead James "Pookie" Hudson. Pookie was born in Omaha, Nebraska and moved to Gary, Indiana with his family as a child. All through grammar school Pookie sang in talent shows and at school functions and thus earned a reputation for his fine voice. While in the 11th grade, he was approached by Gregory, Warren, Courtney and Jackson to join their group. Pookie was not interested in singing with a group initially, but was persuaded by his music teacher to join them. Thus was born Pookie & the Hudsonaires. After high school, the group changed their name to The Spaniels after Gregory's wife, one night at practice, commented that they sounded like "a bunch of dogs."
In 1953 The Spaniels got their first big break when they were discovered by Vivian Carter and her husband, Jimmy Bracken who were forming a new record label. Amazed by the boys' talent, they originally were going to call their new label "Spaniel," but instead chose the name "Vee Jay." The Spaniels first release in 1953 "Baby It's You" (Vee Jay #101) was leased to the larger and more established Chicago R&B label, Chance. Chance was already having success recording and releasing material by The Flamingos.
With wider distribution by Chance, The Spaniels eagerly awaited a hit with "Baby It's You." It never did happen, but "Baby It's You" did put the name "Spaniels" on the R&B map. After their second release "The Bells Ring Out" met with just modest success, their big hit came. "Goodnight Sweetheart Goodnight" was written by Pookie while he was walking the streets singing, improvising words and tunes. By early 1954 The Spaniels had established themselves as one of the "big" R&B groups in the country. Although "Goodnight Sweetheart" did very well on the R&B charts, The McGuire Sisters had the biggest hit with it, selling over a million copies with their clinical, unimaginative version geared towards white audiences.
Due to the draft and some internal problems, The Sparriels went their separate ways in 1955. After attempting several different factions including one without Pookie, they reformed with a stable unit in 1956 and once again were recording for Vee Jay. The Spaniels in 1956 contained originals Hudson & Gregory, joined by Ist tenor Carl Rainge; 2nd tenor Donald Porter and baritone James "Dimples" Cochran. This "2nd Spaniels recording group" gave us classics as "Peace of Mind," "Everyone's Laughing," "I Lost You," "Stormy Weather," "100 Years From Today" and many others before breaking up in 1958.
In 1960 Pookie once again reformed the group for one last Vee Jay release ("I Know") before moving to the Neptune Label and then the Double L label where he was backed up by The Imperials. The 1970s and 80s saw The Spaniels doing the revival circuit with Hudson's lead, Gregory's bass and various combinations of background voices drawn mainly from The Spaniels alumnus. The group was based in Washington, DC for years until Hudson moved back to Gary, Indiana. In late 1990 Pookie "did it again" with Gerald "Bounce" Gregory, and more personel changes this time bringing in original members Opal "Little Shag" Courtney Jr. and Willie C. "Play It Cool" Jackson along with the father-son team Teddy and Billy Shelton.
Tonite the UGHA Hall of Fame is proud to honor the Spaniels !!!!

UGHA Hall of Fame Industry Award
RELIC RECORDS by Mike Caldarulo
Eddie Gries and Donn Fileti were teenagers in 1959 when they decided that R&B vocal group music and records would be their life‑long ambition. Donn being among the first collectors to befriend the legendary "Slim" Rose, would go to Slim's Times Square record shop to buy and trade records. He also began making "discography" lists of all of the records on Slim's wall and "browzers". Eddie, at that time, worked as the "oldies" man at Sam Goody, a large NJ retail record chain. Eddie would use his connections to persuade label owners to sell him old stock and even have the record owners reissue certain cuts he knew he could sell on the side (either from the truck of his car or by working a deal with Slim).
On October 9, 1962 Eddie opened his own record store "Relic Rack." Within the first couple of months Eddie started his own record label and released "Relic #1501" The 4 Most "I Love You." This would be the first of over 75 singles Eddie would release in the next few years. Sometime in early 1963 Donn would contact Eddie and sell him the licensing rights to the Verdicts' "My Life's Desire." This would be the first "Eddie and Donn" endeavor. Donn then began working in Eddie's store.
In March of 1965 they purchased Slim's Times Square Records, lock, stock and barrel. At the same time Relic records released its first LP, 7he Best of Acappella. This LP was a huge underground success certainly an accomplishment, especially while in the midst of the British Invasion. By the mid-sixties acappella was at its peak. In 1966 Donn was drafted and served 2 years in Germany. By the time of his discharge acappella was on the wane, and interest in "oldies" was nil. There were a couple of lean years to come. However, things would eventually change for the better.,
In 1969 Gus Gossert entered the scene and in 1970 began a series of revival shows at the Academy of Music on 14th Street in NYC. All of a sudden there was a surging interest in what was commonly becoming known as "Doo-Wopp. " At this time Eddie and Donn bought the rights to all of Leo Rogers' Tip-Top and Bruce material, and in the spring of 1971, The Harptones LP was released. This was the beginning of a new era: Relic's Golden Group Series: an extensive series of LPs that dedicates itself to being the ultimate for the vocal group purist , a very comprehensive series covering a multitude of R&B groups that true vocal harmony enthusiasts would not want to miss. Today Relic continues to release albums, most of which are in the form of CD's, as they continue to make this musical available to those who can never get enough. Tonight UGHA salutes Eddie Gries and Donn Fileti for their dedication to the R&B vocal art form.

UGHA Hall of Fame Humanitarian Award
MARCIA VANCE by Phil Groia
The recipient of the 1992 UGHA Hall of Fame Humanitarian Award goes to a person whose contributions were so varied to the cause of R&B vocal group music that she left an impact on countless singers and fans. As a screaming wild eye teenager in the mid‑fifties, Marcia Vance attended the live stage shows we all fondly recall. She was able to capture the light generated at these shows and rekindle it in her adult years for others to bask in its glow.
Beginning in 197 1, Marcia was an associate editor and feature writer at BIM BAM BOOM Magazine, one of the early fanzines devoted to the preservation of the history of R&B. Those involved remember Marcia's mailing parties which really amounted to six of us sitting around, goofing off, stuffing thousands of envelopes' she had painstakingly addressed. Later in the seventies, she was part owner of YESTERDAY'S MEMORIES, another magazine solely dedicated to the heritage of R&B. She simultaneously worked as an administrative assistant in various music publishing offices, most notably for Irving Mills.
It was through her writing and work in music publishing that Marcia came in contact with legions of performers to whom she unselfishly gave time and assistance. The list of her contributions to their cause is staggering. She labored tirelessly to ensure that performers received just royalties for recorded performances. Two benefactors were the Spaniels and Harptones. An avid fan of the Jive Five, she managed them for a while in the early eighties resulting in the group recording an album for the Ambient Sound label. Other groups followed Marcia to Ambient Sound: Randy and the Rainbows, the Capris, Johnny and Joe, the Mystics and the Harptones. She served as a consultant to various motion picture and public television projects. In 1974, her efforts resulted in a role for Screamin' Jay Hawkins in the film, American Hot Wax. She often burned the midnight oil assisting other writers prepare manuscripts. They All Sang On 7he Comer, Hear Today, Here To Stay and The Big Beat Heat were three such books. She was so obsessed with documenting the history of three of her favorite groups that each of them ultimately returned to show business. Jimmy McGowan and the Four Fellows, Bobby Mansfield and the Wrens and Lillian Leach and the Mellows sing today because of Marcia.
They called her "the den mother of doo-wopp." She was a great listener, confidante and friend. For one entire year in the mid‑seventies, she was a pen pal to a West Coast lead singer, who shall remain anonymous, while he was incarcerated in state prison. There are those who remember the parties she gave, with groups standing around the piano, singing until the wee hours, surrounded by walls of records. Most collectors have a record room. Marcia had a house full of records.
In November, 1988 Marcia Vance passed away. Most of the individuals honored here this evening were touched by her spirit. And as she often would have said of them, to know the lady who carried a briefcase with a "God Digs Doo-Wopps" bumper sticker on its side, was to know one "delightful" human being.
---
HOME PAGE - ABOUT UGHA - MEMBERSHIP - PHOTO GALLERY - UGHA FAMILY - HALL OF FAME - MERCHANDISE
NEWS NOTES - TOP 500 - COOL LINKS - DIRECTIONS