When Beethoven wrote that "music should strike fire from the heart of man and bring tears from the eyes of women, " it was obvious that he envisioned the coming of the group harmony sound. Probably no other musical form since that period has so vividly reflected the culture of its time.
Like so many other parting decades before, the emergence into the seventies brought about a decline and disinterest in this musical style. The street comer harmony sound took a back seat to the sound of the British invasion and its various derivatives. Classic 1950's R&B/R&R vocal group music, the familiar sound to a generation in transition, literally became, overnight, a musical curiosity.
It was during the mid seventies when a small nucleus of die-hard R&B enthusiasts, reflecting the entire social spectrum and refusing to allow "their music" to be relegated to basement archives, decided that the music they "grew up with" was most certainly worth preserving. Eventually these visionaries formalized their interests and the United in Group Harmony Association was born.
UGHA - The United In Group Harmony Association is the organization created for you, the harmony enthusiast. Founded by Ronnie Italiano (a.k.a. Ronnie I.) in 1976 and still going strong, UGHA is the only non-profit, tax exempt organization of its kind that is truly dedicated to preservation, exposure and education of the authentic group harmony (doo-wop, acappella, and rhythm & blues) music.
UGHA has become a "family" of individuals who love group harmony music - a family of appreciative listeners across the country and throughout the world. UGHA provides the opportunity to see the groups and hear the music that is seldom or never heard on commercial radio. It keeps our music alive by showing the group harmony enthusiast that yes, there are still authentic groups who can emulate the classic sounds of yesterday's veterans while providing an oasis for these vocal groups to continue bringing us the music we've grown to love over the years.
UGHA is proud to have revived such great groups as the Solitaires, Lillian Leach & Mellows, Nutmegs, Moonglows, Teenagers, Robins, Harry Douglas, and countless others. And we are proud that we bring to our members the opportunity each and every month to hear and see these and many other great groups at our monthly UGHA Meeting/Shows and at our special "Collectors' Groups Concert" presented semi-annually by Ronnie 1.
UGHA started its Hall Of Fame in 1991 to pay tribute to our pioneer groups who have been sorely neglected and overlooked by other music organizations. The Annual Hall Of Fame Induction Ceremony developed into the organization's grandest affair. Our inductees (voted in by our membership) include the Cadillacs, Clovers, Harptones, Heartbeats, Orioles, Ravens, Teenagers, Channels, Five Keys, Flamingos, Moonglows, Solitaires, Spaniels, Cardinals, Dominoes, Pre'59 Drifters, Larks, Nutmegs, Platters, Swallows, Delta Rhythm Boys, Ink Spots, Mills Brothers, Deep River Boys, Golden Gate Quartet and many others. This annual tribute takes place in April and the night reflects warmth, joy and focuses on humanitarian quality.
UGHA celebrated it's 10th and final Hall of Fame last year but will begin a "Best of Hall of Fame" series. The focus of this annual event will be to bring back the "best" of the Hall of Fame groups to perform again.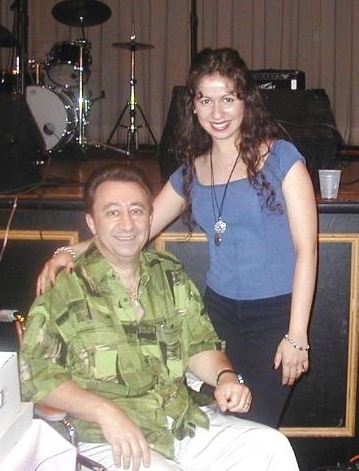 Ronnie and Sandi Italiano

You can be a part of it all. Do your part in helping to keep group harmony music alive in the 90's! Just $25 makes you a member ($30 outside U.S.) and entitles you to all club benefits for one full year, including discount admissions to UGHA Meeting/Shows and other related functions. Shows are presented monthly at Schuetzen Park, 3167 Kennedy Boulevard, North Bergen, NJ (conveniently located 5 minutes from the Lincoln Tunnel and near several major highways).
Should you live out of the area and can't attend the Meeting/Shows, there are other benefits in joining UGHA, such as discounts on records, books, magazines, and video tapes. Plus, all members receive our monthly newsletter which keeps you up to date on all group harmony happenings and the association's activities.
So don't keep missing out on the true group harmony scene. Join UGHA today and become part of an ever growing organization (our membership numbers over 2000). Send you check or money order (credit cards also accepted) for $25, payable to UGHA, address it to UGHA, P.O. Box 185, Clifton, NJ 07011 and drop it in the mail today!
You can also Contact Ronnie at (973) 365-0049 for further details.
Yours in The Group Harmony Cause,
Ronnie Italiano
President and Founder
---
HOME PAGE - ABOUT UGHA - MEMBERSHIP - PHOTO GALLERY - UGHA FAMILY - HALL OF FAME - MERCHANDISE
NEWS NOTES - TOP 500 - COOL LINKS - DIRECTIONS
DO YOU WANT TO BE A MEMBER
THEN FILL OUT THE FORM BELOW