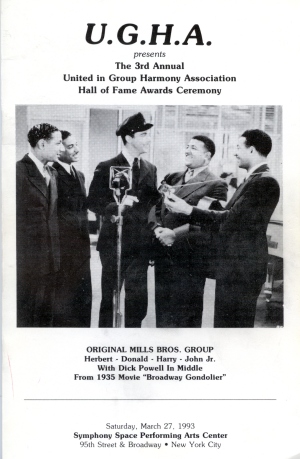 THE CARDINALS
By Charlie Homer
How do you measure greatness in a vocal group? Certainly not by record sales alone. Although the Cardinals had three records reach the Top-Ten of the R&B Charts, they never had a million seller. You can't always measure greatness by longevity, either. The Cardinals recording career spanned a short six years. In fact, the Cardinals had only twelve releases for Atlantic Records and about a third of their recorded material remains unreleased to this day. No, the Cardinals rate as one of the finest Rhythm & Blues vocal groups of all time for another reason. When they sang, the Cardinals approached perfection. Behind the powerful lead of Ernie Warren, the Cardinals blended their voices to reach that upper plateau of harmony, known only to a few elite groups. Once you've reached that level, your place in music history is assured.
Cardinals lead singer Ernie Warren was born in Norfolk, Virginia, but moved to Baltimore in the early 1940's when he was about ten. His family first settled in east Baltimore but moved to west Baltimore after the war. There Ernie sang briefly in the Fountain Baptist Church with a quintet called the Johnson Brothers. Jack Johnson of the group soon convinced Ernie to join a group outside the church, called the Charms. Besides Jack and Ernie, the Charms also included Meredith Brothers and Leon Hardy. While playing amateur shows and local night
Jack Johnson worked in a popular record store called Super Music and the store's owner, Sam Azrael, became the Mellowtones' manager. By the early 1950's the direction of black vocal harmony had been forever changed by the success of another Baltimore group, the Orioles. Independent record labels like Atlantic were looking to record black vocal groups. On a talent scouting expedition to Baltimore, Atlantic executives Ahmet Ertegun and Herb Abrantson visited Super Music and auditioned the Mellotones. Atlantic signed the group on the spot, eventually changing their name to the Cardinals.
In 1951, the Cardinals recorded "Shouldn't I Know." The song reached #7 on the R&B charts later that year and the Cardinals were off to play New York's Apollo Theater. Their follow up record, a beautiful ballad called "I'll Aways Love You" failed to click but the Cardinals came right back with their own version of "Wheel Of Fortune." That record reached the TopTen in March of 1952. The Cardinals began touring, performing to packed houses.
Early in 1952, Ernie Warren was drafted into the service. He was temporarily replaced in the Cardinals first by Luther MacArthur and then by James "Little Caesar" Brown. Neither replacement ever sang lead on a Cardinals record, however. At the next Cardinals session, Ernie Warren returned home on leave to make the recordings. During this time, Sam Aydelotte left and was alternately replaced by Lance Tarver and then Johnny Douglas. Sam Aydelotte would later rejoin the group.
Ernie Warren rejoined the Cardinals after his discharge from the service in 1954. Atlantic had kept the Cardinals hot during his absence by releasing "You Are My Only Love" and "Under A Blanket Of Blue." The Cardinals were soon back into the swing of things by early 1955 with their biggest hit, "The Door Is Still Open." They again had a Top‑Ten R&B chart record.
The high quality of the Cardinals records remained. Songs like "Come Back My Love," "Here Goes My Heart To You," "Off Shore," "The End Of The Story," "I Won't Make You Cry Anymore" and "Near You" are each classics in their own right. But for some reason the hits just stopped coming. The original Cardinals broke up in 1957.
Ernie Warren reformed the group in the late 1950's and again in the late 1980's. The Cardinals of today contain not only the considerable talents of the two remaining Cardinals, Ernie Warren and Jack Johnson, but also Herman Denby (former lead of the Swallows and Melvin Coles.
Tonight we are honored, not only to be able to see and hear this group perform, but to induct the Cardinals into the UGHA Hall Of Fame.

THE DOMINOES
By Ronnie Italiano and Christine T Vitale
What's in a name? 1946 gave us the Ravens, 1948 gave us The Orioles, and 1950 - another bird-named group? Not this time. How about The Dominoes - to round out the three most important groups in the modern era ‑ the innovators of R&B vocal group harmony. All groups that followed were inspired by these three groups. The Ravens and The Orioles were inducted in 1991 into the UGHA Hall of Fame at the very first awards ceremony. Now at our 3rd ceremony, finally, we induct the very deserving Dominoes.
Under the tutelage of Billy Ward, The Dominoes became the most successful R&B vocal group of 1951‑52, and many groups that followed tried to play off that success, notably The Five Royales and Midnighters, by emulating their gospel‑oriented sound.
The man who made The Dominoes possible, Billy Ward, was born in Los Angeles in 1921. As a child, Ward began piano lessons which lead up to his development of skills as a composer and arranger of classical music. His family moved to Philadelphia when he was a teenager, when his father preached at a Baptist church and his mother sang in the choir. Billy Ward entered the army during World War 11 to entertain the troops. After his discharge he entered Juliard School of Music in NYC embarking on a career as a vocal coach. Ward met Rose Marks, who had an advertising agency at 1650 Broadway. Billy worked for Marks, lending his talent to her advertising firm in composing and playing piano.
Ward soon set up his own business as a vocal teacher operating his studio out of the same building. Rose Marks became Billy Ward's manager and encouraged him to form a vocal group which she could also manage. Ward was impressed with The Mariners, an integrated vocal group that was managed by Arthur Godfrey, who later had recordings on the Columbia label in the mid-50's. Billy decided to follow suit with the formation of his own integrated vocal pop group. From his students he chose two black and two white, and named them The Dominoes after the game, which he kept at the studio for his students to play during breaks. Quoting Billy from a recent phone conversation: "I chose 'Dominoes' because 'Dominoes' are black and white, not green or any other color. Black and white dominoes for my group."
Unfortunately, NYC was not ready for an integrated group in 1950. Marks was unable to obtain any bookings or recording contracts, so it was back to the drawing board, and auditioning for a new set of Dominoes. This set included Joe Lamont, baritone; Charles White, 2nd tenor; and Bill Brown, bass. For tenor lead, he listened to the advice of Frank Schiffman and chose a teenager from The Apollo who sang with a gospel group, The Mount Lebanon Singers. That teenager was of course, Clyde Lensey McPhatter.
Ward and Marks started writing tunes for their new R&B Dominoes. A&R executive, Ralph Bass, of King Record's newly formed Federal label signed Billy Ward's Dominoes to a contract and on December 23, 1950 Federal #12001 featured The Dominoes with "Do Something For Me." The record reached #6 on the R&B charts, but more importantly the sound of The Dominoes reached the black buying public and introduced 18-year old Clyde McPhatter with his haunting, graceful tenor voice to the black youth.
Clyde McPhatter soon became a hero, creating such an impact that over the next few years he was imitated more than any other artist. "Chicken Blues" backed up "Do Something For Me" and featured the rich bass voice of Bill Brown. Their 2nd release "Sixty Minute Man" with Brown again on bass lead became the first R&B group record to reach the pop charts.
Other Ward compositions "I Am With You:' "Weeping Willow Blues:' "That's What You're Doing To Me:' "Have Mercy Baby:' "Deep Sea Blues," "I'd Be Satisfied" followed with Clyde restored as lead vocalist. Most of those recordings reached the top 10 on the R&B charts with "Have Mercy Baby" reaching #L Clyde was also brilliant on two standards arranged by Ward: "When The Swallows Come Back To Capistrano' and "These Foolish Things" as well as his lead sharing with Little Esther on "Heart To Heart."
In late 1951, Charles White joined the Clovers. Soon after, Bill Brown left to help form The Checkers of which White also became a part. White and Brown were replaced by James Van Loan (the brother of Raven lead, Joe Van Loan), and David McNeil (original bass of The Larks). September of 1952 brought the recording of Ward's first sequel to "Sixty Minute Man" , "Pedal Pushin' Papa:' featuring bass David McNeil on lead. The flip side was Clyde's most profuse and dramatic weeper, the eery and macabre "The Bells:'
Spring of 1953 saw the departure of Clyde McPhatter and the entrance of Jackie "Sonny" Wilson, Detroit vocalist who caught the eyes and ears of Ward. Wilson spend 1953-56 as the tenor lead of The Dominoes. Some of his more outstanding leads include "Till The Real Thing Comes Along," "The Outskirts of Town:' "Rags To Riches:' "Christmas In Heaven:' " Three Coins In The Fountain:' "Little Things Mean A Lot," and "St. Therese Of The Roses." During those years Billy Ward's Dominoes had over thirty releases on Federal, King, Jubilee and Decca Record labels. Some of the personnel changes during those years included Milton Merle, baritone; Cliff Givens, bass; and Milt Grayson, baritone. Wilson signed a contract with Brunswick in 1957 and although he will always be considered one of the greatest of soul stylists, The Dominoes during his tenure never regained the stature and success they enjoyed during the Clyde McPhatter years.
The year 1957 brought to The Dominoes their 3rd great lead singer, Eugene Mumford, former lead tenor of the pioneer R&B vocal group, The Larks. This was the second time that Ward went to the original Larks for personnel. Billy Ward, not only a genius on arranging old standards, and composing his own material but also a genius in recognizing talent. Mumford's most significant recordings with The Dominoes were "Stardust" and "Deep Purple" with "Stardust" reaching the pop charts as well as the R&B charts. By this time, Billy Ward's Dominoes were under contract to Liberty Records and Ward was primarily arranging old standards and treating them to a pop style with lavish musical accompaniment.
Billy Ward's Dominoes were an R&B institution. Clyde McPhatter, Jackie Wilson and Eugene Mumford: Dominoes tenor leads, spanning a decade. Never has one vocal group boasted three tenor leads of their caliber, although in our opinion, McPhatter and Mumford were on the highest plateau of tenor lead ratings, with Wilson ever-so-slightly below. McPhatter passed away in June of 1972. Mumford who at the time was with The Golden Gate Quartet passed away in the late 1970's, and Jackie Wilson in the late 1980's. The elusive Billy Ward is healthy, and living in Los Angeles. He has been very helpful to us and in the near future hopefully Billy will privilege us to more inside information on his group, as we honor them tonight at our UGHA Hall of Fame 3rd Annual Awards Ceremony. The Schoolmaster and his Students: Billy Ward and his Dominoes.

The Drifters (pre-59)

By Ronnie Italiano and Christine T Vitale

Clyde McPhatter was the most inspiring if not the most important lead singer, of all the early 50's R&B vocal groups, From 1950-53, he was the tenor lead of the pioneer gospelbased vocal group, The Dominoes. As soon as he parted company with The Dominoes, Clyde was sought after by Atlantic Record's Ahmet Ertegun who happened to be a big Clyde McPhatter fan. Signed to an Atlantic label contract in May of 1953, he formed his Drifters from the gospel group he had been with prior to The Dominoes, The Mount Lebanon Singers of 132nd St. in Harlem.

William Anderson, tenor; David Baldwin, baritone; and James Johnson, bass from The Mount Lebanon Singers along with Clyde and 14year old David Baughn comprised the first set of Drifters to record for Atlantic. Their first and only session produced "Lucille." David Baldwin was responsible for the name "Drifters," which he claimed was one of a bird species which he had seen listed in a book on animals. Bird‑named groups were indeed fashionable at that time, however, Baldwin's claim is somewhat doubtful since some 40 years later, there is no documentation of any such species. It is worth noting that there already existed a "Drifters" group out of California, who recorded in 1950-51.

Unhappy with the first set of Drifters, Ertegun requested Clyde to change the personnel. The new set included gospel veteran brothers on tenor and baritone respectively, Andrew and Gerhardt Thrasher (of The Thrasher Wonders); Bill Pinkney, tenor; and Willie Ferbee, bass were the other new Drifters. This group's first recording session produced "Money Honey," "The Way I Feel," "Gone," and "Let The Boogie Woogie Roll." Their first release "Money Honey" made the R&B charts in October of 1953 and reached #1 while remaining on the charts for over 20 weeks.


By the third Atlantic session which produced their second release

"Such A Night", bass, Willie Ferbee had left the group because of an accident. The Drifters then became a quartet with Gerhardt Thrasher moving up from first tenor, Andrew Thrasher down to baritone, and Bill Pinkney down to bass. "Such a Night" was backed with "Lucille" from the first Drifters session. "Such a Night"

was considered to have such hit potential, that R&B queen, Dinah Washington promptly executed her own version of the song. "Honey Love" followed as their third release backed with "Someday You'll Want Me To Want You,' a country tune tastefully treated to an R&B styling. Later, Nolan Strong & The Diablos recorded a verison of "Someday You'll Want Me To Want You."

The fall of 1954 saw Clyde drafted into the army, The next two releases came from August, 1953 and February, 1954 recording sessions: "White Christmas" backed with "Bells of St. Mary" and "What'cha Gonna Do" backed with "Gone." "White Christmas" became the first Drifters recording to reach the pop charts as well as the R&B charts. Featuring Bill Pinkney on lead with Clyde doing second lead, the record established Pinkney as a prominent bass in his field. Taken from the arrangement by Jimmy Ricks' Ravens who recorded their version in 1948, "White Christmas" by The Drifters became the all-time biggest selling R&B vocal group Christmas recording. "Whatcha Gonna Do" was the forerunner of "The Twist" as Hank Ballard borrowed this melody and some lyrics while composing "The Twist." "Gone" is the collector's favorite, a ballad weeper reminiscent of Clyde's earlier Dominoes sides. "Everyone's Laughing" backed with "Hot Ziggety," released in the fall of 1955, came from an October_ 1954 session which was Clyde's last with The Drifters.

When Clyde McPhatter pursued his solo career, some of his "B" sides were taken from 1953 and 1954 Drifters recording sessions: "Let The Boogie Woogie Roll," "Don't Dog Me," "If I Didn't Love You Like I Do," "There You Go" and "Try Try Baby." "Three Thirty Three," quite risque for 1954 when it was recorded, first appeared on an LP some 20 plus years later.

David Baughn, now sixteen years old, became the first Clyde McPhatter sound-a-like replacement in late 1954. Before he was let go again, he and The Drifters had a recording session in April of 1954. From that session came "Honey Bee," not released until March of 1961 as the "B" side of "Some Kind of Wonderful" and "No Sweet Lovin'," released in May of 1961 as the "B" side of "Please Stay."

Johnny Moore followed Baughn as lead of The Drifters. Next to Clyde, Moore was the most talented and memorable Drifters leads. Some of his finest leads were "Adorable," "Ruby Baby," "Soldier of Fortune," and "Fools Fall In Love." Other great Clyde's Drifters leads included Gerhardt Thrasher with "Your Promise To Be Mine" and "Drifting Away From You;" Bill Pinkney with "Steamboat" and Bobby Hendricks, of "Itchy Twitchy Feeling" fame, who enjoyed a short stint with The Drifters in 1958 and recorded "Drip Drop" and "Suddenly There's A Valley," sharing the lead with Tommy Evans. Evans had replaced Bill Pinkney as The Drifters bass in the early part of 1958.

By June of 1958, manager George Treadwell dismissed the current Drifters group in favor of a group called The Crowns, evolved from The Five Crowns. Featuring Ben E. King, this this group started recording as The Drifters for Atlantic by March of 1959 with their first release being "There Goes My Baby."

Sadly, this brought about the end of an era. The legendary authentic rhythm and blues sound of The Drifters created by Clyde McPhatter would be no more. Although during the 1960's The Drifters had the services of two excellent leads: Johnny Moore, who returned after his tour in the service, and Rudy Lewis, their recordings were undeniably commercial, overproduced, and calculated for mass appeal. Heavy strings and choruses replaced the emotionfilled rich harmony for which the pre-59 Drifters groups had been known.

Johnny Moore still has an excellent Drifters group, but because of a legality, Moore's group can perform only in Europe. Bill Pinkey has his own Drifters group in The Carolinas, and has been recording for several years, what has come to be known as "beach music." Clyde McPhatter passed away on June 13, 1972 of a heart attack at the age of 39. He left his legacy .... the timeless music of the Dominoes and original Drifters, both of which deserve recognition , as we induct them into the UGHA Hall of Fame.

The Dubs
By Mike Caldaruio
There could be no argument when it comes to describing this group. It goes without saying The Dubs have the classic ballad styling on which most if not all, group harmony enthusiasts thrive. They have been performing and recording for more than four decades to the delight of all of their fans. Originally called "The Marvels," The Dubs came to be as the result of the collaboration of two groups: The Five Wings (aka The Five Stars) and the "ScaleTones." The Five Wings were Jackie Rue, lead (Rue was later the lead for Jackie and The Starlites); Frank Edwards, tenor (later replaced by Kenny Hamilton); Billy Carlisle, second tenor; Melvin Flood, baritone; and Tommy Grate, bass (Grate is brother of The Dovers' lead, Miriam Grate). The Five Wings had two releases of their own and one release backing blues artist Billy Nelson on King Records. After the session with Nelson, in came a new lead singer with a voice smoother than silk - the cousin of Billy Carlisle, Richard Blandon.
The Scale-Tones were an outgrowth of two spiritual singers, James "Jake" Miller, baritone, and Thomas Gardner, bass. For their secular music they first added Cleveland Still, lead; James Montgomery, tenor; and then Don Archer, baritone. They were signed to Joe Davis' Jay_Dee label and had one release which went unnoticed as their short-lived career.
The actual birth of what would become The Dubs took place when Richard Blandon went to a Scale-Tones rehearal session. Cleveland Still, realizing his limitations as a lead singer, immediately knew that Blandon was the lead for them. A joining of the forces occurred. It was at this time that they began using the name "Marvels." Hamilton and Grate of The Five Wings went on to become members of The Bopchords and The Vocaltones, respectively.
Hiram Johnson took The Marvels to ABC Paramount where they released "Jump Rock and Roll" backed with "I Won't Have You Breaking My Heart" in November of 1956. In 1957 the group re-named themselves "The Dubs," a term used to describe a demo record. Their first release as The Dubs came out of Hiram Johnson's own label, Johnson Records. "Don't Ask Me To Be Lonely" backed with "Darling" became a local hit and Johnson made a deal with George Goldner to handle national distribution of his "Gone" record label. At this time Gardner left the group and Tommy Grate joined The Dubs.
"Don't Ask Me To Be Lonely" was their first of many local hits and is what has become known as a genuine group harmony classic. Other hits would follow, such as "Be Sure My Love," "Beside My Love," "Could This Be Magic," their biggest national hit, and "Chapel of Dreams" which cannot be denied its overwhelming level of popularity in the NYC area, despite its underrated treatment by the area's major media "oldies" radio station. Unfortunately, just when The Dubs had gained some notoriety with their string of hits, the group disbanded. In 1959 however, the group reformed and recorded for ABC‑Paramount, End, Gone, Wilshire and Josie for three years. Although these recordings were high caliber legendary Dubs quality material, the group had seen the last of their hits when they had disbanded in 1958. Their second reformation was in 1971 with recordings on Vicki, Candlelite and Clifton.
In the mid-1980's Cleveland Still and Richard Blandon, the only two originals still singing as Dubs, parted company. Richard continued with The Richard Blandon Dubs, constantly changing personnel; Cleveland Still with The Cleveland Still Dubs featuring Leslie Anderson on lead; B.J. Jones on bass; and tenors "Spider" Truesdale and Steven Brown (Brown, who passed away a few years ago, was original Ist tenor of The Charts). This set of Dubs recorded a version of "Could This Be Magic" for the Clifton Record label in 1987. Cleveland's Dubs are still very active in 1993. Richard Blandon passed away in 1992. He will always be remembered for his classic NYC-style smooth balladeering voice. His brother Daryl has taken his place for the continuation of The Richard Blandon Dubs.
Tonight, The UGHA Hall of Fame proudly adds New York City's balladeers, The Dubs to its prestigious list of inductees.

The Larks
By K.J. ODoherty
Saturday Afternoon Radio Station WBOA - FM New York City - a familiar knowing voice. Brother Thermon "T" Ruth is on the air. The living legend of gospel music whose committment to his community, his church and his goal continues into his silver years. The list of Mr. Thermon Ruth's accomplishments is indeed overwhelming. A fixture in the New York City Area gospel music scene for some seven decades, Mr. Ruth is also at the foundation of perhaps Gospels greatest secular offspring. I speak of 1993 UGHA Hall of Fame inductees rhythm & blues smoothest group: The Larks on Apollo records.
Mr. Thermon Ruth was born in Newberry County, South Carolina in 1914. His family moved north to Brooklyn, NY in 1922. By the mid-1920's Thermon had organized The Selahs Julibee Singers. The group recorded for Decca in 1939. The Selahs also waxed for numerous independent labels with a variety of personnel. Some of the greatest names in quartet singing graced the Selahs: "Crip" Hams and Melvin Coldten (Norfolk Jubilee Quartet), Bill Highpocket Langford (Golden Gate Quartet/Southern Sons) Allen Bunn (Future Lark/Wheel and blues man "Tarheel Slim"). Arguably, Ruth made his greatest discovery in lead tenor Eugene (Gene) Mumford. Ruth first encountered young Eugene Mumford when Mumford was singing (though never recorded) with the Four Internes gospel group in Durham N.C. In 1945 Eugene Mumford was incarcerated for a rape he did not commit. Due to the exhaustive efforts of his father, Eugene Mumford left prison after two and half agonizing years - a rare victory for justice in the Jim Crow South.
Following his full pardon, Eugene Mumford (tenor), Allen Bunn (aka Alden Bunn/Tarheel Slim - vocal and guitar), Raymond "Pee-Wee" Barnes (tenor), Hadie Rowe Jr. (baritone), David McNeil (bass) traveled to New York under the guidance of Thermon Ruth. In October of 1950 this fledgling R&B group recorded sessions as The Jubilators for Regal, The 4 Barons for Regent/Savoy, The Selah Jubilee Singers for Jubilee and The Southern Harmonaires for Apollo (minus Hadie Rowe, who was drafted into military service).
The group signed to record for Bess Berman's Apollo label. Following the footsteps of The Ravens and The Orioles, The Larks were born. The result was a brilliant two-year period of beautiful rhythm & blues recordings: "Coffee, Cigarettes and Tears:' "My Heart Cries For You" the autobiographical "When I Leave These Prison Walls," "Hopefully Yours," "Let's Say A Prayer," "My Reverie," "I Don't Believe In Tomorrow" (Allen Bunn and Eugene Muniford sharing leads to wonderful effect), "Stolen Love," "I Love True To You" and "In My Lonely Room."
In addition to the breathtaking ballads, The Larks bluesy uptempo sides included "I Ain't Fattenin' Frogs For Snakes," "Don't It Feel So Good," "Eyesight To The Blind" and "Lucy Brown." The original Larks were ballad masters without equal, yet their Apollo recordings met with little commercial success. Bass David McNeil joined Billy Ward & The Dominoes replacing original bass Bill Brown who went to The Checker (King). Allen Bunn sang with The Wheels (Premium) and enjoyed a blues career under the name "Tarheel Slim." Raymond "Pee‑Wee" Barnes left group singing and did clubs as a single artist. Founder Thermon returned to his gospel roots promoting, producing, organizing and performing. Mr. Ruth brought gospel to a broader audience when he introduced Thermon Ruth's Gospel Caravan to the Apollo Theatre on December 15, 1955.
Following the demise of The Larks, the gifted tenor Eugene Mumford joined The Golden Gate Quartet. Following his stint with The Gates, Eugene, Orville Brooks (Jubilaires/Golden Gate Quartet), Isaiah Bing (Bing Bros./King Odom Quartet) and David "Boots" Bowers (King Odom Quartet/Ravens on Argo) and pianist Glenn Burgess revived The Larks. Recording for the Apollo subsidiary Lloyd's, the second Larks group made some wonderful pop blues recordings. Sadly, the styling of the Lloyd's Larks were considered dated by 1954. This group appeared in the film "Rhythm & Blues Revue" performing "Shadrack," "Without A Song," "Danny Boy," and "Margie." This film was aired on television as "Showtime At The Apollo."
After his second Larks venture, Eugene Mumford lent his considerable talent to Billy Ward & The Dominoes. The Mumford voice made the charts with "Stardust" and "Deep Purple" on Liberty Records. Gene also recorded with The Serenaders on Whiz and the early European sessions of The Golden Gate Quartet ("Memories of You" and "White Christmas").
The UGHA members and true R&B believers are humbled to recognize the immense talents of The Larks. The late Eugene Mumford, Allen Bunn, Raymond Barnes and David McNeil along with founder Thermon Ruth are proudly inducted into the UGHA Hall of Fame this evening. We also salute Orville Brooks, Isaish Bing and David "Boots" Bowers of the underrated revived Lark's quartet.

UGHA Hall of Fame Honorary Group Award
THE MILLS BROTHERS:
Genesis of the Vocal Group
By Daniel R. Clemson
The Mills Brothers have unmistakably earned the designation often afforded them by musicologists: The greatest vocal group of the 20th Century. The musical milestones created during their incomparable 56-year career (1925-81) stand today.
The family group, recognized as founders of modern‑day, black harmony singing, were the pace-setters for the emergence of the vocal group. They elevated the black vocal group from novelty status to a widely accepted form of music, theirs was the honor of becoming the first black artists to break through racial barriers and gain a truly mass following in America.
It began in Piqua, Ohio, in 1925 when four sons of talented, singing parents formed a professional group initially called Four Boys and a Kazoo. John C., Herb B., Harry E and Donald E, aged 15 through 10, soon adopted The Mills Brothers as their permanent moniker.
The quartet became the first group to fully incorporate the inflections of instruments into barbershop harmonies. This unique flair propelled their meteoric rise to fame in 1929. Two months after departing WLW in Cincinnati, where they earned a total weekly salary of $140, they were raking in $3,250 weekly in New York City from CBS radio and broadway theatre appearances.
As trailblazers for ensuing black entertainers, the Mills family troupe established numerous precedents during their illustrious era. They were the first:
• Black artists to do a commmercially‑sponsored, network radio show in 1929.
• Vocal group ever to record a million‑selling disc!'Tiger Rag/Nobody's Sweetheart'l in 1931. It also was their first release and first Number One hit.
• Black artists selected to give a Command Performance before the King and Queen of England at the world-famed Palladium in 1934.
• American act to have toured Europe, Asia, South America and Australia by the mid-1930's.
• Black vocal group to have a song they popularized!'Sixty Seconds Got Together'! featured on the popular radio show, Your Hit Parade, in 1938.
Joel Whitburn, regarded as the leading expert on charted music, said of The Mills Brothers, "No other vocal group in History has turned out as many hit records (more than 80) over a longer period of time (1931-70)."
Their greatest hit "Paper Doll' was released in 1942. It reached the charts the following year and remained there for 36 weeks, 12 at Number One. The smash hit sold more than 6.5 million discs, fifth biggest seller prior to the Rock and Roll Era.
Their career has produced more than 2,400 recordings (originals and reissues) which have sold well in excess of 50 million discs worldwide. They have encircled the globe 16 times, entertaining on six continents. The list of labels on which their releases appear (more than 70) exceeds the discographies of most singers.
The Mills Brothers appeared in their first full‑length motion picture, The Big Broadcast, in 1932. In all, they sang in 14 feature films and dozens of cartoons, soundies and compilations. The group went through several transformations during its tenure. In 1936, when John C., the oldest brother and group leader, died of a lung ailment contracted in England, the remaining brothers considered disbanding. Thanks to the inspiring decision of their father John H., to assume the basso role, The Mills Brothers moved to a new level of popularity.
It was during World War 11 that the group performed with a non‑family singer. Gene Smith subbed, for one year, when Harry was drafted into the Army. After their father retired in 1956 at age 74, the brothers continued to perform as a trio and maintained the Mills legendary musical style for 25 more years. Harry died in 1982, just months after The Mills Brothers gave their final performance in Atlantic City. In 1984, Donald and his son, John H. II, formed a duo called John and Donald Mills of The Mills Brothers. Herbert did not join the new act because of back problems. He died in 1989.
Today Donald continues to sing in his eighth successive decade. He and "Skip" appear in many of the old places in which The Mills Brothers built their success. The duo produces a musical sound strikingly similar to that of the former trio.
The honors and recognition for this inimitable singing group have continued to accumulate over the years. Some of the accolades were:
• Selection as Down Beat Magazine's Poll Winners for Vocal Groups in 1950, 1951 and 1952, and runners-up in 1949 and 1953.
• Recipients of a Smithsonian Award in recognition of 50 years in popular music, "to an institution as great as the Smithsonian itself," in 1976.
• Recipients of a Lifetime Entertainment Award during the Third Annual American Black Achievement Awards TV special in 1980.
• Recognition by Los Angeles Mayor Tom Bradley as their star was imbedded in Hollywood's Walk of the Stars in 1980.
Two of their most recent tributes came from the brothers' native city of Piqua, Ohio, and their father's hometown of Bellefonte, PA. In 1990, a one-ton black granite memorial was dedicated to the five Mills Brothers. Last year, the Commonwealth of Pennsylvania dedicated an official historical marker, commemorating the Mills family's Bellefonte heritage.
Most importantly, The Mills Brothers' music repertory fulfills UGHA's definition of authentic group harmony: 1) Acappella, with their hit barbershop albums and singles of the 1930's and 1940's; 2) Rhythm & Blues, with 11 entries on Billboard's R&B charts from 1943‑49; and 3) Doo-Wopp, with the second best hit version of "Get A Job" in 1958.

UGHA Hall of Fame Special Award:
Deborah Chessler
Song Writer/Manager of the Orioles
By Charlie Horner
It all began in late summer, 1948. A young group from Baltimore, calling themselves "Sonny Til and the Orioles" burst onto the scene with a new style of singing Rhythm & Blues harmony. So popular was the group's first record, that within weeks groups were springing up on the street corners of every major city in the country, trying to imitate "the sound." Virtually every R&B vocal group that got its start between 1948 and 1952 was influenced by the Orioles. Even the existing quartets of the era began altering their styles to sound more like the new quintet.
As the Swallows' Herman Denby put it, "There were many groups on the corner already, and every one had a different sound. But when all the groups heard the Orioles, it Aus like, 'That's it! That's what we've been trying to sound like!"
If the Orioles laid the foundation for Rhythm & Blues vocal harmony, that first song, "It's Too Soon To Know" was its cornerstone. The writer of "It's Too Soon To Know" and architect of the new sound was also the guiding force behind the Orioles' career.
Born and raised in Baltimore, Shirley "Deborah" Chessler (now Reingold) was twenty‑four years old when she wrote "It's Too Soon To Know." While the tune was written in a half hour, Deborah had to stay up most of the night trying to remember the melody until she could get to someone with a piano and get the notes on paper. Deborah worked in a downtown department store by day and wrote songs the rest of the time. On weekends you could usually find Deborah backstage at one of Baltimore's many theaters trying to interest visiting recording artists in her songs. Trips to the Royal Theater payed off when Dinah Washington took an interest in Deborah's song "Tell Me So." Deborah had also visited Manor Records with "Tell Me So7, resulting in Savannah Churchill recording it.
In late 1947, Deborah Chessler met a young vocal group called the Vibranaires when they auditioned for her by phone. The group, consisting of Sonny Tilghman, George Nelson, Alexander Sharp, Tommy Gaither and Richard Williams, had been singing in Baltimore clubs like the Avenue Cafe and Smith's Gay Nineties. Deborah became the group's manager and gave them several songs to work with including "It's To Soon To Know."
The Vibranaires first break came when Deborah Chessler arranged for them to appear on Arthur Godfrey's nationally broadcast "Talent Scouts" radio program. Though the group finished third to pianist George Shearing and a soprano from Sweden, the radio audience could not get enough of the Vibranaires. They flooded Godfrey's office with thousands of angry phone calls and telegrams, demanding that the Baltimore group be brought back and declared the true winners. In the meantime, Deborah signed the group to It's A Natural Records (later to become Jubilee Records). By this time Johnny Reed had replaced Richard Williams and the group was called The Orioles.
For the. next five years, the Orioles were one of the hottest acts in the country, breaking box office records wherever they went. As their manager, Deborah Chessler played a key role in the group's success. She not only handled their business affairs but whenever or wherever the Orioles stepped out on stage, Deborah could be found watching from the wings. All the while, those great Deborah Chessler penned tunes kept coming. songs like "Barbara Lee," "To Be To You," "Forgive And Forget," "Tell Me So," "I'm Just A Fool In Love" and "Teardrops On My Pillow" kept the Orioles on top.
The Orioles were among the first groups inducted into the UGHA Hall of Fame and their importance to our music is well established. Tonight we honor the person most responsible for the Orioles' success; the person who wrote the songs that started it all Deborah Chessler!

UGHA Hall Of Fame Industry Award:
BOBBY ROBINSON
By Donn Fileti
Mr. Bobby Robinson deserves the highest honors in the world of R&B group harmony. His first venture, Bobby's Record Shop, was one of the first retail record stores in Harlem. Robinson opened his doors in 1946 on 125th Street right down from the Apollo Theatre and sold countless 78's by such pioneer groups as the Ravens, Orioles, and Five Keys. He introduced the Mello Moods on his own new Robin label at the end of 1951 and later, changing the name to "Red Robin," added the Du Droppers, Vocaleers, Serenaders, Rainbows, Velvets, and Scarlets.
He was the first to record Fred Parris ("Dear One" by the Scarlets), and he scored a major regional hit in 1956 with "The Closer You Are" by Earl Lewis and the Channels on his Whirlin Disc label. It was only fitting that each record released on Whirlin Disc featured a vocal group; Robinson became a master of the "New York sound" of the mid-fifties.
He inspired his younger brother Danny to start his own Holiday and Everlast labels, and with Bobby's assistance, "Deserie" by the Charts became a nice local hit in 1957. The Robinson brothers were so busy encouraging and rehearsing young talent that they had no time to speculate that their best productions would become rock 'n roll classics some years later.
With the demise of Whirlin Disc, Bobby Robinson began his most successful venture, Fury Records in December, 1956 with "I'm So Happy" by Lewis Lymon and the Teenchords. A talented songwriter, Robinson actively penned R&B group classics (unlike many of his peers who merely added their names to songwriting credits while supplying very minimal contributions) like "Oh Gee, Oh Gosh" by the Kodaks and "I'm So Happy." Robinson genuinely loved the music he produced and sold; to him, the music business was far more than just a way to make a living.
Between 1957 and 1960, Robinson produced a host of great group harmony sides for his Fire and Fury labels. "My Love Will Never Die" and "The Girt Next Door" by the Channels - exuberant singles by Pearl McKinnon and the Kodaks and Lewis Lymon and the Teenchords - cult favorites by Bobby Rivera and the Hemlocks and Sherman and the Darts - and of course, "Valerie" by Jackie and the Starlites. He scored his first #1 record in 1959 with Wilbert Harrison's "Kansas City," but he continued to record R&B groups despite their waning popularity on the national charts.
Gladys Knight and the Pips were Robinson's first important bridge into the emerging era of soul music. "Every Beat of My Heart" and "Letter Full of Tears" were smashes on both the pop and R&B charts. When Slim Rose's Times Square Record Shop gave birth to the first generation of young R&B group collectors in the early sixties, Robinson re-pressed some of his most wanted 45's, now long out‑of‑print. (Slim had scores of mint Red Robin group 45's in his subway shop circa 1960‑61, most of which he sold for the then premium price of $2 each.)
Robinson was always very aware of changing musical trends and he concentrated more on R&B and blues in the sixties. But, for those of us who appreciate the long and proud history of R&B vocal groups, Bobby Robinson will always be cherished as a master producer of the music we love best.
---
HOME PAGE - ABOUT UGHA - MEMBERSHIP - PHOTO GALLERY - UGHA FAMILY - HALL OF FAME - MERCHANDISE
NEWS NOTES - TOP 500 - COOL LINKS - DIRECTIONS