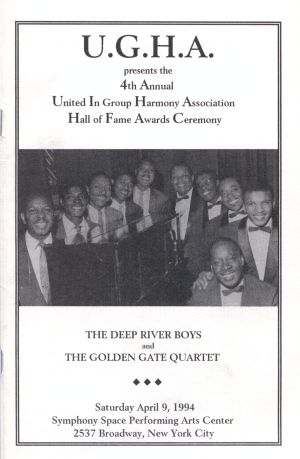 This Webpage is dedicated to the memory of ..............
Orlandus "Dad" Wilson of the Golden Gate Quartet
"His Eye is on the Sparrow"

The Golden Gate Quartet
The Golden Gate Quartet is the world's best known spiritual vocal group. This year, the "Gates" celebrate their 60th Anniversary as a singing group with their induction into the UGHA Hall of Fame. The Golden Gate Quartet of today includes bass singer Orlandus Wilson (age 78) and tenor Clyde Riddick (age 80), who have been with the group since the 1930s. Clyde Wright first joined the Gates in 1954. The youngest member, Paul Brembly has been singing with the group since 1971. Also traveling with the group is the Gates' pianist, Alain Duchesne.
The Golden Gate Quartet traces its origins to Norfolk, VA in 1934. There, two young singers from Booker Washington High School, Henry Owens and Willie Johnson teamed up with barbershop owner A.C. Griffin and one‑legged bass singer Robert "Peg" Ford to form the Gates. While officially Orlandus Wilson and Clyde Riddick did not join the Gates until 1936 and 1940 respectively, both performed on a "fill in" basis in the mid1930s. Griffin left in 1935, being replaced by William Langford. Orlandus Wilson replaced Ford in 1936.
By mid-l 936, the Gates were touring the Carolinas and singing over local radio stations. They soon attracted the interest of RCA Victor/Bluebird Records who first recorded the group in August, 1937. After several appearances on the NBC radio network, the Gates were brought to New York to appear on John Hammond's now legendary 1938 "Spirituals to Swing" concert at Carnegie Hall. By 1940 Clyde Riddick had permanently replaced Bill Langford who had moved on to start his own group. Conrad Frederick joined the quartet as a pianist and became a mainstay of the group. The Gates moved to NYC where they began a long term engagement at the club Cafe Society. There they were seen by President Franklin D. Roosevelt who invited them to sing at his 1941 inaugural gala in Washington, D.C. Several appearances in the White House followed.
Throughout the 1940s, the Gates continued recording the type of rhythmic narrative spirituals that they had pioneered and popularized during the 1930s. In short, they had become a model for thousands of spiritual groups across the country. In fact, the story telling narration of the Gates can be considered a forerunner of today's rap music
Prior to moving to Europe in the 1950s, the Gates recorded over 200 songs, many of which are now standards among spiritual groups. Some of their more popular recordings for RCA Victor and Columbia records include "Noah," "Swing Down Chariot," "Jezebel," "Shadrack," "Wade In The Water" and "Joshua Fought the Battle of Jericho." The group also appeared in several motion pictures including Star Spangled Rhythm (with Dick Powell), A Song Is Born (with Danny Kaye) and Hollywood Canteen (with the Andrew Sisters).
Since the mid-1950s, the Gates have been living in Paris and performing worldwide. At last count the Gates have performed in 77 different countries. They are immensely popular in Europe, performing before packed concert halls and continuing to record their authentic style of spiritual songs on fast-selling CDs. In this country, the story of the Gates was the subject of a recent edition of the National Public Radio series, Wade In The Water. "
Tonight we have the honor not only of welcoming the Golden Gate Quartet to NYC for the UGHA Hall of Fame Awards Ceremony, but also of hearing them sing. Prior to this weekend, the Gates have not performed publicly in the United States since Christmas day 1957, vdien they played Harlem's Apollo Theater with Al Hibbler and Illinois Jacquet. Tonight vve honor the Golden Gate Quartet: Orlandus Wilson, Clyde Riddick, Clyde Wright, Paul Brembly along with their earliest and latest pianists, Conrad Frederick and Alain Duchesne. We also take time to remember some former members who have either passed on or could not be with us tonight: A.C. Griffin, Robert Ford, Willie Johnson, Henry Owens, Bill Langford, Alton Bradley, Cliff Givens, Orville Brooks, Caleb Ginyard, Gene Muniford and Calvin Williams. For 60 years of exquisite vocal harmony, we thank the Golden Gate Quartet.
Web Author's Note
Orlandus Wilson and Clyde Riddick have since passed away.

The Deep River Boys
The Deep River Boys trace their origins to 1936, where they began as a quartet representing Hampton Institute in Virginia (now Hampton University) the small black college‑in a career that spanned over 50years, the "Deeps" are veterans of stage, radio, film and record. They catapulted to success in the late 1930s through a national broadcast daily radio program on the CBS network.
During the decade of the 1940s, the group released over 30 records, appeared in numerous Broadway shows and even filmed a number of 11 soundies," the forerunners of today's music videos. With a very prolific, multi‑language recording career, the Deep River Boys recorded for such labels as Majestic, Bluebird, RCA Victor, and EMI, Pilotone, Beacon and in the languages of Norwegian, Swedish, Danish as well as, of course, English. A few of their more notable recordings are: " I Don't Know Why I Love You Like I Do," "September Song," "Bewitched, Bothered and Bewildered," "It Had To Be You," quarter-million seller, "The Mumbles Song , What Did He Say" (inspired by famed Dick Tracy character "Mumbles"), "Lucky Black Cat," "Ashes of Roses." Among Harry's own noted favorites are: "Sleepy Little Cowboy," "St. Louis Blues," international big-seller, "He's Got The Whole World In His Hands."
The group regularly toured Europe in the 1950s, performed at the White House in 1955, and even toured Africa under sponsorship of the State Department. Leader Harry Douglas had kept the group active withstanding about fifteen personnel changes through the I 950s, 60s and 70s, while maintaining the top quality that first brought them to the attention of the public while operating from New York as a home base, As late as the mid-70s. Harry had toured with a Deep River Boys group, recording a live album in Winnipeg, Canada. Now approaching the "young" age of 80, Harry plans to return to recording with the UGHA label.
The Deep River Boys, known mainly as a spiritual/pop quartet had the pleasure during their illustrious career to record with the Count Basie Orchestra as well as back up famous artists like Thelma Carpenter and Fats Walter. Lead singer Harry Douglass, a remarkable individual and example of eternal youth, still performs occasionally at UGHA functions, backed up the by the acappella group, Things To Come, who Harry has known since they were small children growing up in the Jamaica section of Queens, NY. They will sing on this very special night of April 9, 1994 for Harry Douglass, as warm, considerate and passionate a human being as one could ever meet, is inducted into the UGHA Hall of Fame along with the Deep River Boys. Joining Harry tonight is original tenor Vernon Gardner (82 years of age), who sang with the Deeps from 1936-56. Original bass Edward Ware passed away in the 1960s. Sadly, the other living original member George Lawson, is not well enough to join us.
We are both very grateful and proud to have the charming Harry Douglass and the Deep River Boys be an integral part of UGHA, and to now be inducted into the UGHA Hall of Fame. Harry has indeed been a delight and an inspiration to our music and to the UGHA.

The Dells
The "Mighty Dells" were formed in the early 1950s in Harvey, Illinois out of Thornton Township High School. The Dells have miraculously transcended five decades of hit records with only one personnel change. Chuck Barksdale, Marvin Junior, Verne Allison, Johnny Funches, Mickey & Lucius McGill - a six-man vocal group had a common dream: to record like their idols the Ravens, Dominoes, Clovers and others. They chose the name "El-Rays" (sic) which was allegedly, an idea taken from Mickey McGill's Spanish language textbook. "Los Reyes" means "The Kings" in Spanish', apparently, for whatever reason, they chose to change the spelling.
By 1953, the group felt confident enough to venture into Chess Records in nearby Chicago where they landed their first recording contract. By this time, Lucius McGill had dropped out, making this group a quintet. One release on Leonard Chess' Checker label followed: "Darling I Know" b/w "Christine." With no success and no intention by Chess to record the group again, they walked across the street to Vee Jay Records and shortly after, signed their second recording contract. Upon the insistence of Vee­Jay owner, Vivian Carter, they changed their name to the "Dells," and the group started their illustrious 40+ years as a top-rated R&B group. This time, the name was influenced by the nearby Wisconsin Dells resort area.
The group's first release "Tell The World" sold well locally only. The second release, however, "Dreams of Contentment" managed to break out of Illinois, giving the group national exposure for the first time. The third Vee Jay release brought the group prominence as "Oh What A Nite" in 1956 topped the R&B charts. Eight less successful hits followed, including the collectors' favorites: "Why Do You Have To Go," "A Distant Love," "Pain In My Heart" and "Dry Your Eyes." At this time, the group took a two-year hiatus due to an auto accident while enroute to Philadelphia that disabled Mickey McGill for a year.
The decision to return to show business in 1960 was not shared by Johnny Funches' wife as she persuaded her husband to stay at home. He was replaced by veteran Flamingos singer, Johnny Carter, who had returned to Chicago after serving two years in the U.S. Army. This group as such has stayed intact over the last 35 years. Some of their bigger hits during this period include "Stay In My Corner," a remake of "Oh What A Nite," "There Is" and "Give Your Baby A Standing Ovation." They did back-up work on many recordings including some by these well known artists: Jerry Butler, Wade Flemmons, Etta James, Barbara Lewis, Ted Taylor, Dinah Washington and Andre Williams. Recently the Dells recorded the soundtrack and provided inspiration for the motion picture, The Five Heartbeats.

The Jive Five
When one thinks of the early 1960s and its outstanding R&B vocal groups, The Jive Five is one group that is bound to come to mind. From Hart Street and Myrtle Avenue in the Bedford-Stuyvesant section of Brooklyn, came five young men whose first recording on the Belton record label in the spring of 1961 was to bring them lasting success. Eugene Pitt, lead; Jerome Hanna, first tenor; Richard Harris, second tenor Thurmon "Billy" Prophet, baritone and Norman Johnson, bass comprise the original Jive Five. "My True Story," released in May of 1961 hit the to 100 in July and soon climbed to #3 in Billboard and to #6 in Cashbox. T
Jive Five's second release of 1961 "Never, Never" met with moderate success. January of 1962 saw the Jive Five's third infallible recording "No, Not Again," followed by their fourth recording and biggest hit, "What Time Is It." The recording sessions continued for Beltone in 1962-63 producing "Wedding Bells?," "Lily Marlane," "Rain," "The Girl With The Wind In Her Hair" and "Hurry Back."
Personnel changes took place with Spencer Smith joining the Jive Five in 1962, and Beatrice Best joining in 1963. After leaving Beltone in 1964, Pitt and the Jive Five revived the Love Notes'and Otis Williams & His Charms' 1957 ballad, "United" for the Sketch label. In 1965, after signing with the United Artists label, the group hit the national charts once again with " I'm A Happy Man" - an amazing feat considering this was a time when the charts were loaded with the likes of the British Invasion. More releases subsequently on United Artists including another hit, "A Bench In The Park." The late 60s and early 70s brought Jive Five recordings on the Musicor and Decca labels before the changing of the spelling of their name to "Jyve Fyve" for the Avco Embassy label in 1973.
All their classic Beltone recordings were preserved on an album on the Relic label in the mid-70s. In 1984 the Jive Five were recording again, this time for CBS Records' Ambient Sound label which saw the release of an album. Two years later, in 1986 came the release of yet another album recorded for Boston-based label, Rounder Records.
Still very popular and performing widely today, the current Jive Five makeup consists of original lead Eugene Pitt, along with Spencer Smith and Beatrice Best. On first tenor and bass since 1980 are Eugene's brothers, Frank and Herbert respectively. Tonight at the UGHA 4th Annual Hall of Fame Awards Ceremony we salute today's Jive Five makeup as well as two other surviving original members, Billy Prophet and Richard Harris.

The Nutmegs
With little argument it could be stated that the Nutmegs are a highly underrated group, highly overshadowed by the commercial success of certain other groups. Held with high regard by vocal harmony record collectors, the casual vintage vocal group listener generally recognizes their two local northeast coast hits, "Story Untold" and "Ship Of Love."
Originating from the Elmhaven Projects in New Haven, CT, the Lyres, as they were first known, consisted of Leroy Griffin, James Griffin, James Tyson, Billy Emery and Leroy McNeil. In 1953 the original version of "Ship Of Love" was released for the local New Haven J&G record label by the Lyres. By late 1954 they ventured to NYC and auditioned for Al Silver's Herald record label. Silver loved the group but did not care for their name and thus the Nutmegs were born. "Story Untold" b/w "Make Me Lose My Mind" was released in late March of 1955 and soon rose to #1 on Cashbox's NY R&B charts. By June 4, 1955 "Story Untold" entered Billboard's National R&B charts, peaking at #2. The Nutmegs 2nd release, "Ship Of Love," a remake of their first recording also did quite .vell on both the NY and national R&B charts. The Nutmegs' hits ended there.
"Whispering Sorrows," "Key To The Kingdom" and "Comin' Horne"/"A Love So True" excellent releases were lost in the competitiveness of the R&B recording industry during 1956-57. At this time, baritone Billy Emery left the group and was replaced by James "Sonny" Washburn. Another group name change was in order by 1957 as the Rajahs started recording for New Haven's small independent Klik record label. Again calling themselves the Nutmegs, in 1959 the collectors' favorite "Dream Of Love" was recorded for the Tel label and soon thereafter, Silver invited the group back to his Herald label. The Griffins' nephew Harold Jaynes, joined the group in 1962 for the last Herald recording session.
The early 60s saw the release of many great acappella masters from circa 1957-58 on the Times Square label geared to the first generation of R&B vocal group fans. The Nutmegs great lead Leroy Griffin, legendary bass Leroy McNeil as well as other original members Billy Emery and James "Coco" Tyson have passed. Tonight the Nutmegs are proudly inducted into the UGHA Hall of Fame represented by original first tenor James "Sonny" Griffin and two other important members: James "Sonny" Washburn and Harold Jaynes.

The Platters
When one speaks of the 1950s most popular groups with the most charted hits, one speaks, without doubt, of the Platters. Formed in Los Angeles in 1953, the Platters became the most successful black group in history and the first rock & roll group to cross from the rhythm & blues charts to the pop charts with consistency.
In the early I 950s, L.A.'s three big high schools: Fremont, Jefferson and Centennial, all of which served the black community spawned dozens of R&B vocal groups and artists. One group, the "Flamingoes" (name quickly changed after the Chicago group gained notoriety) was built around the nucleus of Alex Hodge, Cornelius Gunter, Joe Jefferson and Curtis Williams - all classmates at Jefferson High School. Before they could record, Gunter formed his own group, the Flairs and Williams, formed his own, the Penguins. Jefferson became a driver and Hodge became a parttime member of the newly-named Platters. Permanent members were David Lynch, born in St. Louis in 1929 (moved to L.A. in 1942),- Herbert Reed, from Kansas, MO (settled in L.A. after having been a member of the Wings Over Jordan Choir); and Tony Williams, who was born in Elizabeth, NJ in 1928 (moved out to L.A. in 1953, after an invitation from his wellknown, singing sister, Linda Hayes).
On September 15, 1953, the Platters had their first recording session with Federal Records. Tony Williams, lead; Alex Hodge, tenor; David Lynch, baritone and Herb Reed, bass. Their second session was January of 1954. At this time Buck Ram, who had become their manager, brought in a fifth member, I 5-year old Zola Taylor, who had been singing with Shirley Gunter's Queens. After the Platters' last recording session with Federal on September 28, 1954, Hodge was replaced with New Orleans born, Paul Robi, not just a singer, but an accomplished pianist and arranger. There were nine records in all on Federal 1953-56 including the original, uncommercial and quite interesting version of "Only You" and two reissues of three previously released songs in late '55 and early '56. Meanwhile, the Platters moved on to hit the charts for the Mercury label where they made the blatant transformation from R&B to much more overtly pop stylings.
In 1956, Billboard gave the Platters the well deserved title of Top Vocal Group in both the pop and R&B categories. They earned a tremendous sixteen gold and two platinum records during their career. Some of their bigger hits include "Only You," "The Great Pretender," "The Magic Touch," "My Prayer," "Twilight Time" and "Smoke Gets In Your Eyes."
Sadly, lead singer Tony Williams passed away in 1992. Second tenor David Lynch and baritone Paul Robi also passed away during the last few years. Original bass Herb Reed and tenor Zola Taylor each maintain performing Platters groups. We hope they, and Tony's widow will attend the UGHA Hall of Fame 4th Annual Awards Ceremony.

The Swallows
Many historians believe that R&B music began in small clubs along Baltimore's Pennsylvania Avenue. This may very well be, since certainly in the early days of R&B, Baltimore contributed to more than its share of influential vocal groups. One such group, the Swallows, were formed in 1946 when a group of 13 year old songsters named themselves the Oakaleers. With the influence of famed Baltimore "bird" group, tile Orioles, the youngsters changed their name to the Swallows following the trend of groups who were likening themselves to just about every commonly known species of bird.
The Swallows recording career began when they signed a deal with King Records in 1951. With an ever‑apparent Clyde McPhatter (Dominoes) influenced high tenor voice, Eddie Rich was the group's lead on their smooth renditions of "Dearest" and "Will You Be Mine" the latter of which became a minor hit on the R&B charts. Other great Rich tenor lead ballads followed: "Wishing For You," "Since You've Been Away," "Eternally," "You Left Me," "Tell Me Why," and "I'll Be Waiting" their last release on King. In the studio, the Swallows' second tenor Herman Denby was fooling with Charles Brown imitations, and the record company asked him to lead some tunes in this style. This opened a new dimension for the group with Herman leading songs like "I Only Have Eyes For You" and "Beside You" which reached #8 on'the R&B charts in August of 1952. Bass Norris Mack also sang lead on some jump sides: "It Ain't The Meat" and "Bicycle Tillie."
When Denby entered the service, Rich kept the group going through the remainder of their King sides and subsequent releases on the After Hours and Federal labels. On the Federal label, the lead chores were shared with local Baltimore talent, Calvin Kollette who had previously sang with the Honey Boys. In the early 1980s Eddie Rich reformed the Swallows to record again for the Philadelphia based Starbound Records. Denby who had recently been singing with the Cardinals, another UGHA Hall of Fame group born out of Baltimore's prolific R&B history, has reunited with Rich to once again make this legendary group complete. UGHA is proud to enter this pioneer R&B group in its Hall of Fame and be able to present Eddie Rich and Herman Denby with their Swallows as one of our special featured acts at the UGHA Hall of Fame 4th Annual Awards Ceremony.
---
HOME PAGE - ABOUT UGHA - MEMBERSHIP - PHOTO GALLERY - UGHA FAMILY - HALL OF FAME - MERCHANDISE
NEWS NOTES - TOP 500 - COOL LINKS - DIRECTIONS