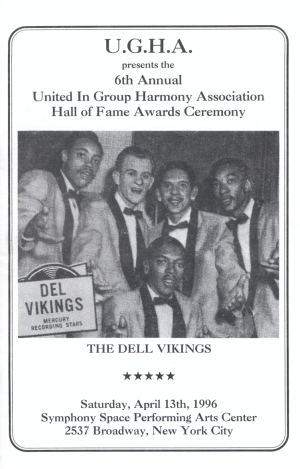 The Castelles
By Charlie Horner
Every once in awhile, a singing group comes along with a sound so unique ‑ so special ‑ that forty years after their last recording the group's name is still spoken of in hushed tones of admiration and respect.
Philadelphia's Castelles recorded but seven records in a career that spanned only six short years. They had no national chart hits and only their first record, "My Girl Awaits Me", sold particularly well. The Castelles didn't tour the country in endless strings of one nighters and their influence on other groups was mostly regional. In fact, the Castelles are known for just one thing their singing. But sing they did and did it to perfection. Just listen to the sweet sound of one of their ballads and you'll understand why the Castelles belong in UGHA's Hall of Fame!
The Castelles story begins in the early 1950's at Sulzberger Junior High School in West Philadelphia. Inspired by the success of the Orioles and
Dominoes, Philadelphia was a hot bed of aspiring young vocal groups. At Sulzberger, groups would gather in the school yard and fire escape towers between classes to harmonize. These "lunch time vocal groups" were made up from a pool of talent that swapped group members back and forth quite frequently. From this pool, two vocal groups eventually began to take shape: the Dreams and the Castelles. Bass singer Ron Everett started out singing with the Dreams but switched to the Castelles. Leading the Castelles was a talented tenor named George Grant. Octavius Anthony sang first tenor and Billy Taylor handled baritone. Critical to the formation of the Castelles was second tenor, song writer and guitarist Frank Vance. Frank was a couple of years older than the rest of the group and his musical experience and guitar gave the group a decided edge over the competition. In 1953 Frank wrote and presented to the group a song called "My Girl Awaits Me". It was written as an answer to the Edna McGriff tune, "Heavenly Father."
Having performed at local dances for a couple of years, the Castelles were ready record. At the time, though, there were very few record labels in Philadelphia and those that did exist didn't want R&B vocal groups. Like many Philly groups, the Castelles would go into center city and record demo's at a penny arcade. In days before home tape recorders, this was the only way a group could play back and listen to their own sound. One Saturday, the Castelles cut a penny arcade disk of "My Girl Awaits Me". While walking home along Lancaster Avenue, the group passed the appliance store, Tregoobs. Anxious to hear how the demo sounded, they went in and asked the salesman to play the record on one of the new record players sold there. Store employee Jerry Ragovoy heard the record and liked it. He and Herb Slotkin started their own Grand record label to record the group.
By the time "My Girl Awaits Me" was released in 1953, the Castelles were in high school. The record sold very well in Philadelphia, New York, Baltimore and Washington, D.C. Having a hit record created a demand for public appearances. The group began singing at clubs and dances around Philly and also had some out of town gigs.
The Castelles second record, "This Silver Ring" was released in January of 1954. It too was an instant hit in the Philadelphia area. Other Philly groups began to take note of the Castelles' use of a high tenor lead. The stage was set for high tenor or falsetto leads in Philly for years to come. Listen, for instance to the Bluenotes, Little Joe & Thrillers, Turbans, Universals and even sixties and seventies groups like the Delfonics and Stylistics.
With the exception of occasional fill ins by friend Walt Miller or members of the Dreams, the Castelles personnel remained constant throughout the Grand recordings. Later songs like "Do You Remember", "Over A Cup Of Coffee", "Marcella", "I'm A Fool To Care", "Baby Can't You See", and "My Wedding Day" may not have sold outside of Philly, but each is a masterpiece of harmony and considered a classic today! The Castelles' final Grand label recording was the song that inspired their first, "Heavenly Father".
In 1956, the Castelles (now consisting of George Grant, Billy Taylor, Octavius Anthony and friend Clarence Scott) traveled to New York to record for Atco records. "Hey Baby was the only record released and the Castelles short career was over.
Several of the castelles continued to sing, their voices welcomed by some of the most pretigious groups of the time. George Grant went on to sing with the Modem Red Caps, Orioles and Ink Spots. Billy Taylor, in his career, has sung with the Dreams, Dominoes, Spaniels, Orioles, Modern Red Caps, Cfovers and Cobras. Frank Vance sang briefly with the Spaniels before retiring from singing. Ron Everett went on to become an exceptional jazz trumpet player as well as a noted playwright.
Ron Everett passed away in 1990, Billy Taylor, Frank Vance and Octavius Anthony still reside in Philadelphia. George Grant is still active as a singer. He and Billy Taylor have performed at UGHA functions recently, to recreate the Castelles' sound for their legions of loyal fans. Tonight we honor the Castelles for their exquisite harmony and their contributions to American music by inducting them into UGHA's Hall of Fame.

The Chords
by KJ O'Doherty
The year 1954 was a whirlwind of success for five young men from the Bronx, New York. The aspiring pop harmony quintet: Carl Feaster (lead tenor), Jimmy Keyes (Ist tenor), Floyd "Buddy" McRae (2nd tenor), Claude Feaster (baritone), William "Ricky" Edwards (bass), and accompanist Rupert Branker (piano). Originally practicing pop material, the Keynotes became the Chords.
The group joined Atlantic Records to wax an RnB version of "Cross Over The Bridge" for the Cat subsidiary. When California DJ, Dick "Huggy Boy" Hugg, flipped it over to spin an infectious original novelty "Sh-Boom", American musical history was made. The vibrant lead of Carl Feaster carried this remarkable slice of street slang to heights previously unobtainable by R n B vocal groups. The Chords toured extensively, They visited the West Coast appearing on NBC's TV show, "The Colgate Comedy Hour", singing "Say Hey Willie" with NY slugger Willie Mays. In addition to the chart action cover recording by Canadian quartet the Crewcuts, the Chords acquired Clovers' manager Lou Krefetz. Mr. Krefetz made available to the Chords a fine touring car with their moniker emblazoned on it.
The excitement of "Sh-Boom" was short lived. By December of 1954, the Chords were redubbed the Chordcats! ! The pioneer Washington D.C. producer Lillian Claiborne had copyright to the Chords name. She had managed a quartet who recorded "In The Woods" on Gem Records. "Zippity Zurn", "Bless You", "A Girl To Love", "Hold Me Baby", "Could It Be", and "Pretty Wild" all featured the effusive lead of Carl Feaster. These Cat releases were by the Chords, Chordeats, and Sh-Booms! ! Talk about an identity crisis.
In 1957, the Sh-Booms (Carl Feaster, Claude Feaster, Jimmy Keyes, Arthur Dix, Joe Davis), waxed "Lulu" and a marvelous version of "I Don't Want To Set The World On Fire." The Sh-Booms then broke up. In 1961 some former Chord/Sh-Booms recorded "More, More, More" for Roulette Records under the name Lionel Thorpe. Again the easily identifiable lead of Carl Feaster was in evidence. All the original Chords regrouped for a trademark treatment of "Blue Moon" for their old employers Atlantic Records.
In the mid 60's, Jimmy Keyes formed the Popular Five to wax for Rae-Cox and Mercury. For some 30 years, Jimmy Keyes continued to carry the standard for the Chords and "Sh-Boom" until his death in July of 1995. He had always longed for the recognition due the historic "Sh-Boom". In 1979, UGHA had the distinct honor of "bringing back" the Chords for a UGHA monthly meeting/show. The group at this time consisted of originals Carl, Jimmy, and Buddy. Also in the group was long time friend, Gary Morrison. Carl passed away in 1980 and Gary in 1988. Tonight UGHA is humbled to induct the Chords into their Rhythm n' Blues Vocal Group Hall Of Fame. Jimmy, your years of singing "Sh-Boom" and other Chords classics have not been forgotten.

The Dell Vikings
by Ronnie Italiano
The Dell Vikings story is probably the most complicated of all the major 1950's vocal groups. The mystique surrounding the group has prevailed through the years putting them in a unique class because of their appeal, not only to the serious group harmony collector and student, but also to anyone who just appreciates this type of music.
Their story started in 1955 when the group was formed from Air Force enlistees on the Pittsburgh Air Force Base. Personnel changes were inevitable from the beginning because of the constant overseas transferrals.
After winning an amateur contest on their Air Force Base they were signed to a contract by Fee Bee Records of Pittsburgh. Their first session for Fee Bee produced their first big hit, "Come Go With Me". "How Can I Find True Love"' "When I Come Home", "Don't Be A Fool" and "Watching The Moon" are from that same first session. The group at the time consisted of Kripp Johnson, Norm Wright, Don Jackson, David Lerchey and Clarence Quick. By their second session Don Jackson had been sent to Germany and replaced by Gus Backus. Their second big hit came from their second session. "Whispering Bells". In this session they backed up local Pittsburgh country and western singer Joey Biscoe on a few cuts. One of them, "What Made Maggie Run", is contained in this LP. Joe Auerbach, Fee Bee owner, in the meantime was leasing Dell Vikings recordings to the Dot Records label. Dot was a major label, and with its worldwide distribution was responsible for the Dell Vikings' two big hits.
By 1957 the group became disenchanted with Fee Bee and decided to sign with the Mercury label, who were releasing hit after hit by the Platters at the time. Unfortunately, first tenor and lead Kripp Johnson was legally unable to make the move with the rest of the group. Johnson was 21 at the time contracts had been drawn with Auerbach and was bound to his for two years. The rest, because of being underage, were able to break theirs.
When The Dell Vikings went to Mercury, Johnson formed his own Dell Vikings Group. Chuck Jackson, who later found fame as solo artist, shared the leads with Johnson. The other members were Ed Everette, Arthur Budd and Don Jackson, an original Dell Viking who had returned home from Germany. Courts ruled in favor of the Mercury group regarding the use of the Dell Vikings' name. Johnson's group had also been using it in recordings and engagements. Averbach started putting out releases by them under the name of the Versatiles, with credits going to just Chuck Jackson or Kripp Johnson. This group is responsible for "Willette", "You Said You Love Me", "I'm Spinning" and "I Want To Marry You" contained in this LP. Jackson is lead on "Willette" and "I Want To Marry You", Johnson on the others.
William Blakely replaced Kripp Johnson on Mercury and besides numerous releases (singles, EPs and LPs) and much promotion, the two years with Mercury did not produce a hit for the Dell Vikings. Ironically, Johnson joined them, after fulfilling his obligation with Fee Bee, in time to be lead on their last two Mercury releases in 1958. Soon after, their contracts ran out and Mercury released them.
TheDell Vikings broke up after being released by Mercury. In 1960, Johnson formed another Dell Vikings group consisting of local Pittsburgh talent. They were together for five years recording for the Alpine, ABC Paramount an~ Gateway labels.
The last decade has seen the passing of Clarence Quick and Kripp Johnson. Prior to his death, Johnson's Del Vikings recorded a CD with 10 excellent re-recordings of Del Vikings 1950's and early 60's material. After the death of Quick, his group recorded a CD as a tribute to him. It contains 15 cuts including originals and re-recordings of Del Viking hits.

The El Dorados
by KJ O'Doherty
Time for a quick quiz, RnB mavens. Can you name the vintage 1950's Rhythm n' Blues quintet that has recorded a compact disc of RnB group standards, backed a blues belting legend on another, and toured England? The answer is the 1990's most formidable authentic example of Chi-Town RnB group singing. The El Dorados!
The genesis of this high octane model of genuine street corner chirping was Englewood High School in Chicago. Louis Bradley (tenor), jewel Jones (tenor), James Maddox (baritone), Robert Glasper (bass), and the great lead tenor, Pirkle Lee Moses Jr., formed the Five Stars.
The Five Stars dropped Robert Glasper, adding Richard Nickens (tenor), and Arthur Bassett (Bass), thus the sextet'rhe El Dorados were born. The group came to the attention of Vee Jay Records. The result was a series of superb Rhythm n' Blues ballads and uptempo classics: "My Loving Baby", "Annie's Answer" (with Hazel McCollum), "One More Chance", "At My Front Door", I'll Be Forever Loving You", "I Begin To Realize", "Now That You're Gone", "A Fallen Tear", "There In The Night", "Bim Bam Boom", "A Rose For My Darling", and "Tears On My Pillow".
Following the release of these fine recordings, Pirkle Lee Moses Jr. and the El Dorados parted ways. Pirkle Lee united with the Kool Gents/Delegates: John McCall (tenor), Douglas Brown (second tenor), Teddy Long (baritone), and John Carker (bass). Two fine ballads resulted: "Three Reasons Why" and the UGHA favorite, "Lights Are Low". The other El Dorados recorded as the Four El Dorados (Academy) and purportedly the Tempos (Rhythm).
As is the case with so many of their RnB brethren, the El Dorados had material recorded, but never released: "Lord Knows I Tried", "Trouble, Trouble", "She Don't Run Around", and "Love Of My Own". These sides have appeared on now out of print LP and CD reissue albums.
The El Dorados at present consist of the trademark tenor of Pirkle Lee Moses Jr., Larry Johnson (ex-Morroco/Majestic Arrows), "Huffy" Wright (Valquins), and Norman Palm (Pastels). They have an excellent CD of "Chicago Street Corner Blues & Rhythm" (St. George Records) released in 1993.
The El Dorados continue the high standard of RnB harmony they established with their marvelous Vee jay recordings. The UGHA Hall Of Fame is thrilled to open the door and let them in! The real deal RnB legends, the El Dorados! Tonight we not only honor original lead Pirkle Lee Moses Jr., and his current El Dorados, but we also welcome to the stage original baritone, James Maddox and original tenor jewel Jones.

The Harmonizing Four
by Charlie Horner
The tremendous influence of Spiritual and Gospel singing on all forms of American popular music, including R&B, is well known. In the Gospel field, it's not uncommon for vocal quartets to have histories stretching back thirty, forty or even fifty years. In such a world, it takes a lot for a group to really stand out above the rest. The Harmonizing Four not only arc rccognized world wide as one of the greatest, they've been one of the best since they first began singing, some 69 years ago!
The formation of the Harmonizing Four can be traced to Richmond, Virginia, during the summer of 1927. The original members of thc group, all students at Dunbar Elementary School at the time, included John T. Scott (tenor), Joe Curby (tenor), Lawrence Hatcher (baritone) and Willie Peyton (bass). The Harmonizing Four at first sang in school and then in area churches where they quickly gained a large following. While the group was always in big demand, they didn't put their voices on record until the early 1940's. In the meantime, several personnel changes occurred. Joe Curby passed on at an early age and was replaced first by Leon Gibson, and then by Thomas Johnson. Levi Hansley replaced Willie Peyton as bass and Vance Joyner replaced Lawrence Hatcher as baritone. In 1936, Joseph Williams was added to the group as a fifth member. "Gospel Joe" sang baritone and took on the added duties of managing the group. The Harmonizing Four sang strictly acappella until 1943 when Lonnie Smith joined the group. Lonnie played guitar and sang tenor. He replaced John Scott who had enlisted in the army.
In the early 1940's, the Harmonizing Four traveled to New York to record for Decca Records. When they returned to Richmond, they were given a weekly radio program on station WRNL. Before long the group was broadcasting nationally, their program following that of the world renowned Wings Over Jordan Choir. The Harmonizing Four also began to tour extensively. Among their more memorable engagements was a performance before 40,000 people at the National Baptist Convention in Atlanta and a performance at the White House at the request of Eleanor Roosevelt, after the death of President Roosevelt. The group also performed at Sister Rosetta Tharpe's wedding in Washington, D.C.
Throughout the 1940's the group continued to record for numerous labels including Decca, Religious Records, Coleman and MGM. Record labels called the group either the Harmonizing Four of Richmond or the "Richmond Harmonizers".
In 1950, the Harmonizing Four signed with Philadelphia's Gotham label. By this time, Clarence Ross had replaced Levi Hansley as bass. James Walker (later of the Dixie Hummingbirds) was persuaded to leave the Southern Sons and sing with the Harmonizing Four during the early Gotham years. While on Gotham, the group reached even higher levels of popularity with records such as 'I Am On The Battlefield For My Lord" and the perennial favorite, "Silent Night".
In the mid 1950's Clarence Ross passed on. His replacement, Jimmy Jones, quickly became known as one of the premier bass singers in quartet history. Jones, a native of Mississippi, was also singing with the Southern Sons when the Harmonizing Four found him. Jimmy Jones' singing style has transcended Gospel music to influence all fields of quartet singing. His bass leads in songs like "Corne Over Here" and "I Shall Not Be Moved" are classics.
Sterling Hollomon joined the group in the 1950's as a guitar player and also sang tenor. Tommy Ellison also sang with the Harmonizing Four for a brief time before leaving to sing with the Five Singing Stars.
In 1957, the Harmonizing Four signed with Vee Jay Records. The nine year stay with Vee Jay produced some of their more memorable recordings, including "All Things Are Possible" and "His Eye Is On The Sparrow".
In 1958 Jimmy Jones left the Harmonizing Four to form his own group, the Sensationals. He was replaced by another great bass, Ellis Johnson. Ellis, by the way, is the son of the Harmonizing Four's Tommy Johnson.
In 1966, after returning from a tour of Europe that covered nine countries and was seen by more than 100,000 people, the Harmonizing Four signed with Atlantic Records. Over the years they have continued to tour and record for a number of different labels including Babylon, Jewel and Checker. Calvin Meekins joined the group in 1980. In the 1990's, Wilham "Grandpa" Robinson joined the group, as did guitarist Larry Russell.
The Harmonizing Four have performed all over the world. In the U. S. they have sung at Carnegie Hall and the Apollo Theater in New York, as well as the Smithsonian Institute in Washington, D.C. Though the group officially retired last year, their music will always be a part of our culture, through their recordings and the groups they've influenced. Tonight, the Harmonizing Four take their rightful place in U.G.H.A's Hall of Fame.

The Jesters
by Ronnie 1.
Cooper junior High School on 120th St. in Harlem is our setting for the formation of the original Jesters. Early 1955 brought together Lenny McKay (lead), Anthony "Jimmy" Smith (2nd tenor), Leo Vincent (baritone), and Neil Grant (bass). Grant was responsible for the quartet's name deriving it from his favorite Danny Kaye movie, "The Court Jester".
After a year of making token appearances at dances, the group decided to look for a fifth member, a first tenor to fill out their harmony and keep up with the competing groups in their neighborhood. They found Adam Jackson singing on 122nd St. and invited him to join the group. This quintet stood together for two years and was responsible for the I st three releases on Winley and one on Cyclone.
The Jesters got their break like most groups from Harlem in the mid 50's did, at amateur night at the Apollo. After winning first prize three times, Paul Winley signed them to his Winley record label in early 1957.
Jackson wrote their first release, "So Strange", although Winley and David Clowney took writing credits. Clowney acted as arranger and played piano on the Jesters early releases. Jackson and McKay shared the lead on the first two Winley releases in 1957: "So Strange" b/w "Love No One But You" and "Please let me love you" b/w "I'm Falling In Love". The Jesters 3rd re lease in Jan. of 1958 was "The Pica" which had been a hit for the Chantels in mid 1957, but the group felt it would sound better by male voices. Winley's wife's Cyclone label produced the fourth and final release by the original Jesters, "I Laughed", (patterned after the Spaniel's "Everyone's Laughing") b/w "Now That You're Gone", another two strong sides on one 45, a Jesters standard.
Jackson and Smith were the only two willing to continue in 1958, so they dipped into local talent to fill out the group. Melvin Lewis and his brother Donald became the new baritone and bass of the Jesters. This combination produced the Jesters' biggest hit in 1960, on the Winley label. It was a re done, re-worked version of the Diablos 1954 hit, "The Wind". In fact, through the years that have followed, the Jesters version has become the more popular. Two more releases for Winley were forthcoming in 1960 and 1961, either one obtaining hit status: "That's How It Goes", and "Come Let Me Show You".
Ronald Jackson, Adam's brother, joined the group in 1974, making the group a quintet once again. Ronald had formerly been the lead for the Youngtones on the XTra label.
The late 70's saw the departure of original 2nd tenor, Jimmy Smith, replaced by Marshell Cherry. The group enjoyed the last fifteen years performing at oldies shows and an occasional UGHA concert. The Jesters lead singer and inspirational leader, Adam Jackson, passed away after a short illness on Feb. 27,1994. The group's other original lead, Lenny McKay, had passed away in 1971. Adam Jackson's death was a shock to his many friends and fans. The Jesters will attempt to go on without him, although he can never be replaced. Tonight we honor Adam Jackson's Jesters and induct them into our Hall Of Fame.

The Vocaleers
by Ronnie 1.
One of the most successful early 1950's NYC vocal groups originally called themselves the Rainbows. This teenage group started singing in the hallways of brownstones in the neighborhood of 142nd St. Joe Duncan (lead), Herman Dunham (Ist tenor), William Walker (2nd tenor), Melvin Walton (baritone), and Teddy Williams (bass), replaced by Lamar Cooper after Ist release.
After acquiring a manager, Jimmy Manning, the group entered the Wednesday night Apollo Theater Amateur Shows, where they once beat Roy Hamilton for first prize. In 1952, the Rainbows, now known as the Vocaleers, recorded a rough demo of "Be True", a Joe Duncan original, and presented it to Bobby Robinson of Red Robin Records. Robinson signed the group and recorded "Be True" at Beltone Studios. Released on Dec. 14, 1952, it was a sizeable local hit, peaking at #5 on Cashbox's NY RnB listing for March 21, 1953.
The Vocaleers' biggest hit, their second release and another Joe Duncan composition, was "Is It A Dream". Released in April of 1953, "Is It A Dream" was to become a classic of its genre, influencing countless later NYC groups. "I Walk Alone" and "Will You Be True" followed in 1953 and early 1954, neither selling well. The Vocaleers last release on Red Robin, "Angel Face", in late 1954, followed the departure of Herman Dunham, who joined the Solitaires as their lead tenor.
Joe Duncan reformed the Vocaleers in 1958 with Herman Dunham coming back to the group, Melvin Walton, Lamar Cooper, and a moonlighting Richard Blandon from the Dubs. The group recorded for Hy Weiss's Paradise label, "Have You Ever Loved Someone". Weiss also recorded the group on his Old Town label in 1960, "Love And Devotion". At this time, the group became a quartet with originals Duncan, Dunham, and Walton, with new member Leo "Tiny" Fuller. The Vocaleers continued recording in 1961, this time for Danny Robinson's Vest label. "The Night Is Quiet" featured Melvin Walton, Joe Duncan, and another returning original member, William Walker, along with Leo Fuller and Caesar Williams backing up Walton. One more release by the Vocaleers was forthcoming with Walton on lead, "A Golden Tear" for the Twistime label in Jan of 1962. As the Stylists, Joe Duncan and Lamar Cooper with three new voices and Al Browne's orchestra recorded "One Room" for the Rose label.
UGHA reaped the benefits of the reformation of Joe Duncan's Vocaleers in 1990. Joe enlisted the services of his brother Paul Martinez (Vocaltones, Solitaires, Cadillacs), former Vocaleer, Leo Fuller, plus Frank Marren and Don Cruz. This group has performed at numerous UGHA concerts the last six years with a live performance of "Is It A Dream", from March 6th, 1994 at Symphony Space, NYC, being recorded on the UGHA label. Tonight UGHA recognizes Joe Duncan's Vocaleers with our most important and prestigious honor, induction into the UGHA Hall Of Fame.

UGHA Hall of Fame Humanitarian Award
Al Browne: Profile Of A Multi-Faceted Musician
By Connie Questell
The man who wears many hats, a retiree of New York State; Al Browne's main love has always been music. He started at an early age in piano then continued to major in music at N.Y. U. and graduated from the Brooklyn Conservatory of Music. This achievement has led him to become an accomplished musician, teacher, composer and bandleader. He has recorded behind many of the R&B Groups including The Shirelles, The Velours, The Crests, and Eddie and the Starlights. He has been vocal coach to many who are stars today, such as Leslie Uggams, Stephanie Mills, Irene Cara and Freda Payne.
As a songwriter he has over 300 songs to his credit, receiving citations from BMI (Broadcasting Music Inc.) for his accomplishments. During the era of Amateur Night in Harlem at the Apollo, he would volunteer his expertise in preparing and encouraging the contenstants for their performance. He worked with Hat Jackson of WBLS in performing Childrens' Christmas Shows and also acted as a Talent Scout for Hal's Weekly Palisade Show that aired on Radio.
His latest band release on the RAB Label, Rainbow Coalition, was inspired by the inimitable Rev. Jesse Jackson. The Originial song was musically written by Al with lyrics from Rachel E. Garnes. It features his male vocalist, Harold Williams, a la Arthur Prysock, Billy Eckestein, backed by the harmonious blend of Just Two, Bernard Jenkins and David Bullock. This inspiring new song is being adapted by the schools and also church choirs as a feeling of togetherness.
Helping people seems to come naturally for "Mr. Music" (alias Al Browne). While in the U.S. Army, located on the "Isle of Okinawa", Al was given the title Entertainment Specialist, where he supervised 75 artists for weekly extravaganzas. Ten thousand (10,000) soldiers got to enjoy the nightly shows under Al's supervision, Al made up skits, dances and songs.
This Harlem reared New York native also volunteered his time with such organizations as the P.A.L., the Sickle Cell Foundation, Flatlands Boys Club, the Arthritis Foundation, as well as 20 years with The American Red Cross. Besides his love of music, his greatest inspiration is his family: his wife Mary Moore, his sons, Delmar and Karl, and his daughter, Sheryl.
Al Browne should feel highly honored with all the recognition being bestowed upon him, but being modest his only thought is of helping budding talent bloom into a full grown flower. Giving of himself is Al Browne's Greatest Satisfaction.
---
HOME PAGE - ABOUT UGHA - MEMBERSHIP - PHOTO GALLERY - UGHA FAMILY - HALL OF FAME - MERCHANDISE
NEWS NOTES - TOP 500 - COOL LINKS - DIRECTIONS