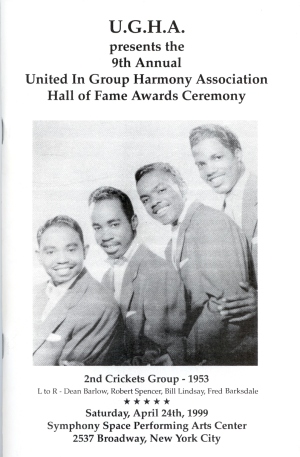 The Crickets
By Donn Fileti
Dean Barlow and the Crickets were one of the finest, smoothest harmony groups to sing rhythm and blues ballads in the early fifties. In a very short period (January, 1953 to May, 1954) Joe Davis produced at least eighteen memorable sides by the young vocal combo from the Morrisania section of the Bronx, New York. Influenced by the Ravens, Orioles, Swallows, Larks, Four Buddies, and other masters of the r&b ballad style, the Crickets were never able to duplicate the rather modest success of their first single "You're Mine" and consequently were forgotten except by loyal collectors of fifties r&b.
Grover "Dean" Barlow, the lead voice of the Crickets, was one of the truly great lead singers of rhythm and blues harmony Like Ray Pollard of the Wanderers, Willis Sanders of the Embers, and a very few others, Barlow may have been too good (too smooth, too "pop") to capture a mass audience. Male groups were dominating the r&b scene in 1953 when the Crickets first entered the picture, but perhaps the bluesy, more soulful sound of the Clovers, Dominoes, or Five Royals caught the record buyer's ear more quickly than the sweet harmonies of the Jay Dee group. During the early days of r&b collecting (195464), the Crickets'45's were rarely mentioned, but as listeners mature and refine their unsophisticated "doowop" tastes, the popularity of a "class" act like the Crickets soars.
Barlow was originally from Detroit and he moved to the Bronx around 1951 when he was sixteen. He was an avid stickball fan and made some new friends at the Forest House Community Center who were to be the first Crickets aggregation. They included Grover "Dean" Barlow (lead), Harold Johnson (tenor and guitar), Eugene Stapleton (tenor), Leon Carter (baritone), and Rodney Jackson (bass). They practiced diligently both original songs written by Harold and pop standards similar to the hits of the Ravens. The Crickets were not slavish imitators, however; they possessed their own distinctive style.
At one point the young men met agent Cliff Martinez (who later managed the crows on Rama and the Mello‑tones on Decca) who introduced them to veteran record producer and song publisher Joe Davis. Davis had cut such acts as the Five Red Caps, The Deep River Boys, and the Blenders, so it was natural that a smooth, tight, pop r&b vocal combination would attract his attention. According to Dean Barlow, Davis chose the name "Crickets" and wisely retained all rights to it in case any or all members left the group (George Treadwell, the manager of the Drifters, had a similar arrangement). His foresight earned Davis a considerable amount in 1958 when he won a large cash settlement from Buddy Holly and the Crickets who used the name he owned. Davis also retained the contract for the group himself and produced four sides which he leased to MGM in the winter of 1953.
"You're Mine"/ "Milk and Gin" was Cashbox's r&b "sleeper of the week" in the February 21, 1953 issue (beating out the Buccaneers' "Dear Ruth" on Southern, among others) and eventually rose to #8 on the New York City regional r&b list a month later. The Crickets did one-nighters and package tours, and played the Apollo Theatre in Harlem with Ruth Brown, Moms Mabley, and Sonny Stitt. According to Rodney Jackson, they slept on Oriole George Nelson's floor when they appeared at the Royal in Baltimore, and were stranded in Petersburg, Va. when Fats Domino left the tour after a fight with his band. They were known for their sartorial splendor; eight different outfits, kept both their wardrobe and reputation at a peak in 1953.
The Crickets' second release for MGM "For You I Have Eyes"/ "I'll Cry No More" was one of their finest performances, but it received little attention in May, 1953 when it was issued. Davis then decided to reactivate his Jay Dee label and he recorded about seven songs with the Crickets in an historic New York session on April 24, 1953. The first release scheduled for mid-summer was Jay
Dee #777, "Dreams and Wishes"/"When I Met You," advertised in Cashbox for August 1st. Some of the sides recorded in the April 24th date featured Gil Stevenson piano, Alan Hanlon on guitar, and Milton Hinton on Bass, while others (according to Davis's files, "Your Love") used Al Williams on piano, Cozy Cole on drums, Sam Taylor on tenor sax, Arvel Shaw on bass, and Mundell Lowe on guitar.
Two more songs from that session "I'm Not the One You Love" and "Fine as Wine" (#781) were manufactured in October, 1953 but by this time, the original Crickets group had just about disbanded. Joe Davis was encouraging Dean Barlow to go out as a solo, and Harold Johnson was soon to join Lillian Leach and the Mellows. Rod Jackson, Leon Carter, and Eugene Stapleton never sang professionally again. A second Crickets group with Barlow as lead, tenor J.R. Bailey, baritone Bobby Spencer, and bass Freddy Barksdale (all of whom later joined other groups) was formed but never actually recorded. The third and last Crickets did the final Jay Dee sessions; it consisted of Barlow, Robert Bynum (1st. tenor), William Lindsay (2nd tenor), and Joe "Ditto" Dias from the Chords on bass. This group recorded Patti Page's big hit "Changing Partners" and "Your Love," which was released as Jay Dee #785 in late December, 1953.
"Are You Looking for a Sweetheart?"/ "Never Give Up Hope" (#789) and 'just You"/ "My Little Baby's Shoes" (#786) were released about six weeks apart in the winter months of 1954. These two 45's did very little, and the third Crickets were on their way to oblivion. Davis tried again later in 1954 with "I'm Going to Live My Life Alone"/"Man From the Moon." released as Jay Dee #795 (and later Davis #459) although these two songs were cut by the original group at the April 24, 1953 session. Since Davis was apparently not concerned with the problems potential discographers would face twenty‑five years later, he reactivated his Beacon label with "Be Faithful" (recorded May 28,1953) and released it in November, 1954. This track was overdubbed with more contemporary instrumental accompaniment and re‑issued on Beacon in the late fifties.
Dean Barlow had a very modest solo "hit" with "I'll String Along With You" in March, 1955, and he joined with William Lindsay and a couple of others to form the Bachelors on WWRL dj Tommy Smalls' and arranger Sammy Lowe's Earl label in 1956. With the Montereys on Onyx and their "Dearest One," Barlow got a lot of local attention in 1957. He even remade "You're Mine" as a single
with strings in the background for Morty Craft and Warwick in 1960, but the litigious Joe Davis quickly secured an injunction against it. Barlow then recorded for Beltone - Lescay ("Third Window From the Right") and finished his active singing career with "Don't Let Him Take My Baby," for Rust. Listen to the classic, smooth ballads by the Crickets and compare Barlow's strong lead with the 1953 group to his command of the Monterey's New York hit "Dearest One." It is clear that Grover "Dean" Barlow ranks with the best r&b leads of all time.

The Five Royales
By J. I Doggett
In 1938, maternal first cousins (adolescents), Lowman Pauling, Jr., Clarence Pauling, Windsor King, Anthony Price, and friend, William Samuels organized the Royal Sons in Winton-Salem. When John L. Tanner joined the evolved group in 1943, the Royal Sons became a competitive gospel unit on the adult circuit, traveling the Southeast. In 1951, this gospel group signed with Apollo Records. By summer/fall 1952, Apollo Records had a new R'n'B group, the "5" Royales, Lowman Pauling, Jr., John L. Tanner, James E. Moore, Obadiah H. Carter, and Otto Jefferies. Between early 1953 and early 1954 this group had five (5) top‑ten R'n B' hits for Apollo. Big Al Pavlov calculates The "5" Royales as the top group for the year 1953. During the fall of 1953, E. Eugene Tanner, Jr. replaced Otto Jefferies Uefferies thereafter becoming full time manager.) During the spring of 1954, The "5" Royales switched to King Records, for whom they had two (2) more top ten R'n'B hits.
By the summer of 1960, the group had signed with the Home of the Blues label (Memphis). In late 1962, Lowman Pauling left the group and was replaced by Robert Burris. The material recorded for Home of the Blues 19601962 was issued on a combination of H.O.B., Vee-Jay and ABC Paramount. 1963 saw the group move onto Todd Records (Nashville). In late 1963, John Tanner and Jimmy Moore let the group and were replaced by Eudell Graham and Wallace Simpson from the Four Dukes (originally from Memphis).
Simpson did not stay long. By mid‑1964, The "5" Royales, backed by the James Brown band, had two successful recording sessions with Smash (Mercury), Eudell Graham's updated version of "Baby Don't Do It" was well received in NYC. The group made its last Apollo Theatre appearance with the James Brown Show; hopes for a comeback were high. Then Todd Records brought an injunction against Smash; the group was still committed to Todd. Lowman Pauling rejoined the group at that time. Obadiah Carter, who had become group leader, was then negotiating with Stax Records. But in a fit of frustration, Obadiah broke up the group, taking most of the members home to Winston-Salem.
In late 1964 Pauling and Eudell Graham reorganized The "5" Royales, moving them to Laurel, Mississippi. Larry Robinson and two others from Memphis joined and so did Tom T-Bone Pruit from Ellisville, Mississippi. Pauling left this group in late 1965. Eudell Graham and Larry Robinson carried on the group until March, 1968, traveling the Gulf Coast and also California. Their traveling companion was Ernie K-Doe. The Mississippi "5" Royales had an issued single in 1965 with Cosimo Matassa's White Cliffs label. There was also unreleased material that year recorded from Hi Records and for Stax/Atlantic, Memphis.
In March 1968, Graham and Robinson were arrested for armed robbery The group came to a sudden end. Howeer, T-Bone Pruit then organized his Rhythm Rockers blues band. That band is still active around Hattiesburg. Pauling and his brother, Curtis moved to Brooklyn, NY, in 1966, where they based their Pauling Brothers R'n'B act. Pauling died in 1973. Otto Jefferies died in Winston-Salem during the 1990's. John Tanner lives in Winston-Salem, Robert Burris lives in Greensboro. Jimmy Moore worked for Westchester County~ NY. He lives in Ossining. It now appears that Eudell Graham, a John Tanner sound‑alike, last lead singer, died in Memphis during the early 1990's
There is an ever broader consensus that The "5" Royales were the first artists to sing in the "soul" style, fully two years out in front of their good friend, Ray Charles. Ray Charles sang pop‑blues before he finally switched to "soul".

The Four Knights
by Rick Whitesell (1979)
Usually sparked by the plaintive tenor voice of GeneAlford, the Four Knights displayed a uniformly polished approach to ballads as well as uptempo tunes. Their recorded repertoire of superlative pop, R&B, and spiritual performances still has a fresh simplicity that is appealing even today.
"No, there was never any doubt about it," said baritone Clarence Dixon when asked if he'd had any second thoughts about pursuing a show business career in earnest. Dixon recalled listening to the Ink Spots, Mills Brothers, and the Golden Gate Quartet as a youth growing up in Charlotte, North Carolina. He joined the Southland Jubilee Singers, comprised of first tenor Gene Alford, 2nd tenor and guitarist John Wallace, and bass Oscar Broadway. "Oscar and John had a group; Gene had a group; and then the war broke them up ... Oscar was a janitor at my high school, where he more or less got in touch with me."
Broadway's original Southland Jubilee Singers aggregation had formed in Charlotte in 1943. Dixon joined early in 1944, and the group promptly landed a singing spot on the NBC affiliate, WSOC-Charlotte. After about six months there,
the quartet made the move to CBS' WBT-Charlotte. This powerful 50,000-watt clear channel radio station was the home of the popular and prestigious "Carolina Hayride" program. The Golden Gate Quartet had been the show's featured singing group until they left for New York in 1939; Willie Langford's Southern Sons then held the spot until the Southland Jubilee Singers were hired.
"It made my head swim," remembered Dixon. "I didn't expect all these things. Here I was going with a first rate group in my local town, and things were happening so fast. We went from one of the popular small stations - WSOC to big WBT, and all these things were happening in a matter of weeks after I joined the group. I wasn't quite ready for it. I was scared to death half the time."
The next big step in the group's career came when Cy Langois, co-owner with Ralph Wentworth of Lang‑Worth Transcriptions, discovered them. "Langois heard us on the 'Carolina Hayride' one Saturday afternoon, and within weeks he was down there to persuade us to have him as our personal manager, which he did."
With Langois, the Southland Jubilee Singers traded in their name and local status for a wider fame as the Four Knights. In 1945, they went to New York to appear on Arthur Godfrey's radio show, and they also started recording the first of myriad transcriptions for LangWorth. Artists under Cy Longois' management made numerous 8" diameter 33 rpm discs, with between 4-6 songs on each side; the Lang‑Worth operation then leased these discs to various radio stations. When played on the air, an announcer could mix in his own patter with the group's music, giving listeners the impression that the Four Knights were actually at their local station's studio. "He supplied radio stations across the country," said Dixon of Langois. "They were done constantly from 1945, from the time we went to New York. That was his main object, he took us under his personal management to get us on his transcriptions... we did recording every two or three weeks to establish a library."
The Lang-Worth transcriptions are among the finest sides the group ever did, and spotlighted pop standards such as "For Me And My Gal" and "St. Louis Blues", as well as traditional tunes in the public domain, including "Blue Tail Fly" and "Grandfather's Clock". These discs featured considerable usage of the 11 simulated instrumental" technique; "we used it a lot on personal appearances, but we kind of stayed away from it on records because the Mills Brothers had it first," Dixon said.
Based in New York until 1948, the Four Knights got a Decca recording contract, and did tours booked through MCA with Benny Moten and Bill "Bojangles" Robinson. For a time, around 1946 or 1947, the Four Knights filled in for the Jubalaires on the Godfrey program. Dixon said that by this time, all the group's members had learned how to play back‑up guitar chords, although John Wallace was always the "official" guitarist. Dixon himself was often credited as the group's arranger. "I got the name of being the arranger because when there was any disputes or what have you, everybody put in their two cents' worth. I had, I guess, a little more musical knowledge and they gave me the authority to have the last word."
The first commercial recordings the Four Knights made, for Decca, emphasized tuneful ballads such as "Just In CaseYou Change Your Mind" and "Walkin' With My Shadow," which featured trademark whistling breaks from GeneAlford. Of the discs put out by Decca and its Coral subsidiary between 1946-50, Dixon described them all as being only "fairly successful, nothing smashing."
The biggest break came in 1948, when the quartet landed a berth on the Red Skelton radio program. With Jimmy McDonald, who'd done some arranging at the Lang-Worth sessions, the Four Knights left New York for Los Angeles. Nine months of the year, the group concentrated on their appearances on the Skelton show, occasionally flying out to Las Vegas for some weekend gigs; the other three months were devoted to touring. Dixon loved the experience of working with one of America's leading funnymen. "Everybody knew Red Skelton, and that made our personal appearances very successful. Even before we got the big records on Capitol, we were well known because of Skelton."
This is why the Four Knights were so chagrined at losing the exposure they got through working with Skelton, a setback which Dixon attributed to manager Cy Langois. "He wanted more money than the Skelton show could afford to pay us for the third season (1950-51). Because of their budget, they couldn't give us the $500 raise our manager wanted. He (Skelton) liked us ... he still wanted us, but the budget just wouldn't allow it. As a matter of fact, the David Rose band had to release about three or four men because the band had to take a cut; everybody had to take a cut that year. But our manager was so bullheaded he took us off the show. Because of that, we broke up with him."
A contract with Capitol in 1951 brought the Four Knights success as recording artists. Their first releases were generally supported by just John Wallace's guitar, and they did harmonious readings of "Charmaine", "Sin", "Cry", and their cover of the Five Key smash, "The Glory Of Love". Dixon remembered, "We didn't have the biggest versions of these songs, but we did very well with them."
In late 1952, Gene Alford's health started to fail. An epileptic, Alford had to give up most of the grueling tour schedule. George Vereen came in as a fifth member on studio sessions at this time, and sang lead on live gigs. "George first worked for us way back in 1945 on a tour with Bill Robinson," stated Dixon, "when I happened to be ill with pneumonia. We had known him from around Charlotte because he was on radio then, too. We were very close from then on." Vereen worked with the Four Knights until 1955, and then when Alford had to give up his career, ex‑Delta Rhythm Boys member Cliff Holland was brought in.
"Oh Baby Mine (I Get So Lonely)" was a huge hit that broke into the top ten nationally in 1953. Full orchestration and a "big beat" sound provided a departure from the previous simplicity of four voices backed by one guitar. "There was a change to bigger bands," said Dixon. "This was all the idea of the A&R man ... but the style didn't change too much until after we lost Gene. Because Gene was a very dominant figure, the style had to change. There was only one Gene; if you listen to those early ballads, that's obvious." The smooth voice of the tenor was finally stilled in 1960, when Gene Alford passed away
While on Capitol, the Four Knights were on the road continuously. "After we lost the Skelton show, things just kind of turned around - we were on the road nine months out of the year and managed to spend three months at home. That went from 1952 to about 1957 ... we were traveling constantly. It was quite a strain, but it was always interesting."
"We played Las Vegas ... the Thunderbird is the first big thing I remember. We played Montreal, the Apollo in New York; we toured Sao Paolo and Rio in Brazil. We were going to Argentina, but you know how those revolutions flare up down there!" There were also TV appearances with Ed Sullivan, Perry Como, and an old friend newly arrived to the media, Red Skelton. There was also a 13week stint on radio with Russ Morgan.
What was Dixon's favorite place in all his travels? "Honolulu. We had a standard thing where we could go out there three months of the year, and it was usually in the middle of winter when the weather was bad back home. It was like a holiday for us to play clubs there. This went on for about three or four years.
"I remember we used to be pretty close to Les Paul and Mary Ford, and they had a hit with 'Hold That Tiger'. I found a little toy tiger in a Honolulu shop or something, and I put it in a little box and sent it to them. They wrote me back and they said they got it when they were stranded, snowbound someplace in Pennsylvania and they said they envied me being in Hawaii!"
The Four Knights were not chart‑toppers during the '50s, but their sound and sales were consistent enough to warrant prolific releases of new material by Capitol. Between 1955 and 1957, the quartet backed Nat King Cole on some distinguished tunes, including "If I May" and "That's All There Is To That." Clarence Dixon, who recalled that the group and Cole had the same A&R man, said, "We'd bumped into each other occasionally, and he (Cole) liked our style. Nat got what he wanted anyway, so all he had to do was think of it."
A label switch to Coral in 1957 produced four subsequent singles, including the pop hit "0 Falling Star". The Four Knights, however, had lost the consistency of style which prevailed when Alford sang lead. After recording on the soundtrack of "Panic In The Streets" and traveling to Japan, Clarence Dixon left the group in 1963. They disbanded about three years later.
Guitarist John Wallace died in 1978. Bass and group organizer, Oscar Broadway, has been in poor health, but he lives about 20 minutes away from Clarence Dixon and they see each other often. Dixon himself, now living in the Los Angeles suburb of Inglewood, is involved with music in his church. The personable baritone singer seemed to enjoy recounting the details of his successful career with the Four Knights, which took him out of Charlotte and brought him around the world, but he lamented the fact that he owned so few of his own recordings. "I always though I'd have a collection of everything, but some way, somewhere I was always getting talked out of it, or somebody'd take them and I ended up with practically nothing!"
Often group members will later complain about the stress of working and living with the same people on such a constant basis, but not so with Clarence Dixon. "We just got along fine and we just had a lot of fun doin' it all. It was like one big holiday"
NOTE: Since this 1979 article, the two surviving original Four Knights ‑ Oscar Broadway and Clarence Dixon as well as later lead, Clifford Holland ‑ have passed away.

The Jacks / Cadets
By Charlie Homer
The story of the Jacks and the Cadets is one of the more remarkable in Rhythm & Blues history From 1955 to 1957 the Jacks and Cadets were among the hottest, vocal groups in the country. They each had chart records; the Jacks having the #3 R&B hit "Why Don't You Write Me" and the Cadets having the #4 R&B hit "Stranded In The Jungle". They had different sounding leads and they recorded for different West Coast labels; the Jacks for RPM and the Cadets for Modern. Yet the Jacks and the Cadets were, man for man, the same group.
The Bihari brothers, owners of both the RPM and Modern record labels, must have realized the group's versatility when they signed a young Los Angeles Gospel quintet in late 1954. They immediately had the group recording cover records of other breaking R&B tunes. For years, white artists had been covering smaller black artists. The Biharis wanted this black group to cover black and white artists. Their new group could sing in any number of styles and seemed up to the task. And as a bonus, this group proved equally good at writing and recording their own material.
The group that first came to the Bihari brothers consisted of Willie Davis (first tenor), Will "Dub" Jones (bass), Lloyd McCraw (baritone), Ted Taylor (first tenor) and Aaron Collins (second tenor). When they started singing Rhythm & Blues, the group picked the name Jacks. Since several members of the group could sing lead, the Bihari brothers saw a way to double the return on their investment. With Will Davis singing lead, the group would record for RPM as the Jacks. With Aaron Collins doing lead, the group would record for Modern as the Cadets, a name the Biharis picked. Dub Jones, a phenomenal bass, ended up as an alternate lead on up‑tempo sides for both groups.
The Jacks scored right out of the gate with their version of "Why Don't You Write Me", released in April of 1955. The original version was by the Feathers but the Jacks' version was smoother and more commercial. In addition, RPM had better distribution than the Feathers' Showtime label.
The Cadets' cover of the Nappy Brown tune, "Don't Be Angry" (originally written by UGHA Hall of Famer and former Golden Gate Quartet member, Clyde Wright), didn't sell quite so well. The Aaron Collins led tune did, however, sell well enough to keep the group singing under the two names.
With the popularity of "Why Don't You Write Me" the group began touring nationally as the Jacks. They first joined a nineteen city tour that included Count Basie, Joe Williams, Ruth Brown, the Orioles and T-Bone Walker. They toured the South and then hit the major East Coast cities. When they reached NewYork'sApollo Theater, the Jacks joined Tommy "Dr. Jive" Small's show which also starred Howlin'Wolf, Bo Diddley, the Harptones, The Flamingos, the Heartbeats, Etta James and Bill Doggett.
With their success, the Jacks began recording mostly original material. The distinctive Willie Davis lead was featured on such classic sides as "This Empty Heart", "How Soon", "So Wrong" and "Why Did I Fall In Love".
Meanwhile, as the Cadets, the group continued recording cover records. They recorded their own versions of the Marigolds' "Rolling Stone", the Willows'"Church Bells May Ring", Elvis' "Heartbreak Hotel", Johnny & Joe's "I'll Be Spinning", Peppermint Harris "I Got Loaded" and the Dominoe's "Sixty Minute Man" (with lyrics changed to "Dancin'Dan"). Technically the last two were not really covers, since the originals were five years old at the time. In fact, "Dancin' Dan" was more of an answer record. The Cadets also kept the "Work With Me Annie" series going with their "Annie Met Henry".
The group's biggest success as the Cadets came when they covered the Jayhawks' song, "Stranded In The Jungle". Dub Jones did the bass lead and the Cadets' version was considerably more polished than the Jayhawks' version. But the hook that helped distinguish the record was the tenor's exclamation, "Great googa mooga, let me outta here!" This was not uttered by the group's regular tenor Ted Taylor, since he didn't make the recording session. Instead, noted group singer Prentice Moreland filled in and improvised the line himself. "Stranded In the jungle: was so popular that the group found themselves back on national tour again, this time as the Cadets.
In 1957 Ted Taylor left the Jacks/Cadets for a successful career as a soloist. He was replaced by Pete Fox, a long time member of the Flairs. Lloyd McCraw also stopped singing but remained close to the the group for some time, handling their business affairs.
By 1958 the Modem/ RPM label was becoming less active and the group was about ready to strike out on their own. McCraw, Jones and Collins started their own MJC label and the group recorded "My Reckless Heart" as the Rocketeers. Willie Davis did the lead. In April 1958, Dub Jones left to join the Coasters. He was the Coaster' bass on many of the group's hits including "Charlie Brown".
Aaron Collins and Willie Davis eventually ended up in the Flares that recorded "Foot Stompin". This group also recorded as the Cadets on the Jan-Lar label. At that time the Cadets included Randy Jones who had previously sang bass for the Penguins.
Tonight we honor this great West Coast vocal group with their induction into UGHA's Hall of Fame. Representing the Jacks/Cadets are their current group members, Willie Davis, Pete Fox, Randy Jones and Thomas Turner. The Jacks/Cadets continue to keep the sound alive.

The Spiders
By Todd R. Baptista
During the 1950's, a large segment of popular music was undeniably shaped by the sounds emanating from Cosimo Matassa's recording studio on Rampart and Dumaine Streets in New Orleans, Louisiana. Fats Domino, Little Richard, Lloyd Price, Larry Wllliams, Smiley Lewis, and many others recorded their greatest sides here. The Crescent City was also blessed with a number of talented vocal groups, the most memorable and influential of which was the Spiders.
The story of the Spiders is centered around the two oldest sons of the Rev. Henry and Anna Carbo, Hayward "Chuck" and Leonard "Chick" Carbo. Born in Houma, Louisiana, in the late 1920's, they settled in New Orleans in 1932 and were influenced by a diverse group of artists from Jimmie Lunceford and the King Cole Trio to the Delta Rhythm Boys and Golden Gate Quartet. After serving in World War 11, the brothers formed the Veteran Gospel Singers quintet. In 1949, Chuck joined the Zion City Harmonizers, a long‑standing spiritual group. They included bass Oliver Howard, tenor Joseph Maxon, baritone Matthew West, and pianist Henry Wicks. A month or two later, Leonard was brought in as a second bass.
By 1952, the Zion Harmonizers had become the Delta Southernaires and built a strong following, due in part to their Sunday gospel hour on WWEZ radio. Leonard Carbo landed them an audition at Matasa's J&M studio, and the group was eventually persuaded to switch over from gospel to rhythm and blues as the Spiders, a name suggested by Chuck's wife, Gloria. Signing with Lew Chudd's Imperial label in December 1953, the group (minus Wicks) benefited from the talents of producer Dave Bartholomew and the sounds of his impressive studio band: drummer Earl Palmer, guitarists Ernest McLean and Justin Adams, pianist Edward Frank, bassist Frank Fields, and saxists Red Tyler and Lee Allen. Songwriter/ guitarist Adolph Smith wrote their first release, the suggestive "I Didn't Want To Do It", a Top 3 R&B hit, and "You're The One", which peaked at #8 in early 1954.
Their third release, the Bartholomew penned "I'm Slippin'ln" reached #6 on the R&B chart in the summer of 1954, and they toured the country, appearing on stages from coast to coast, including the Apollo in Harlem, New York, and the Howard in Washington, D.C. Dissention plagued the Spiders. Howard left for a time. Maxon tired of the road and quit. After the death of his young son in late 1954, Chuck decided to pursue a solo career. Leonard Carbo became the Spiders' new lead. He along with West, Howard, and tenor BIll Moore, recorded "21", a #9 hit in early 1955, "The Real Thing", and "Bells In My Heart". In 1955, Issacher "Izzycoo" Gordon replaced West.
Chuck Carbo and the Original Spiders reunited to record "Witchcraft" in August of 1955. It became a national hit, reaching #5 during 11 weeks on the R&B chart and crossed over into the pop market in many areas. It became their most recognized tune. By late 1956, the group had disbanded. Leonard Carbo went on to record solo for Atlantic and Vee Jay The final Spiders release of the era, "That's My Desire", featured but two voices: Chuck Carbo and Joe Gaines of the Hawks.
After a pair of solo singles for Imperial in 1957, Chuck teamed with Mac Rebennack, who later took the stage name Dr. John,and recorded a halfdozen singles for Rex, Ace, and Teem Records between 1959 and 1963. After a couple of additional records, including one with Huey Smith and the Clowns, he focused his attention on his family of ten children and his work as a dump truck driver. Leonard "Chick" Carbo kept a Spiders group active ilito the early 1960s and made one final single for Imperial. Working with Allen Toussaint, a pair of 45s was issued on the Instant label in 1962. His last recording, "Touch Me", was released in 1968.
Chuck retired from music until appearing at a 1982 benefit for WWOZ in New Orleans. Sporadic local bookings ensued over the next few years and in 1989 his first solo LP, "Life's Up And Downs" was released on the 504 label. "Meet Me With Your Black Drawers On" became a regional hit for the then 63 year old. A contract with Rounder Records followed. With the assistance of Dr. John and the late arranger Edward Frank, two critically acclaimed CDs were produced, "Drawers Trouble" in 1993 and "The Barber's Blues" in 1996. Chuck's successful blend of blues, R&B, rock, and gospel has made him a favorite at festivals and clubs in recent years.
Today, Chuck and Gloria, his wife of over 50 years, still reside in New Orleans. Matthew West lives in Inglewood, California. Joe Maxon makes his home in Kenner, Louisiana, while Adolph Smith and Issacher Gordon live in New Orleans. Oliver Howard died in 1969. Bill Moore and Henry Wicks are also deceased. Leonard "Chick" Carbo became a deputy of Civil Sheriff Paul Valteau and operated his own bar, "Carbo's", in New Orleans. He died of a heart attack on August 18, 1998, at age 70. With the release of their complete recorded works on Bear Family Records, the legacy and ongoing appreciation of the Spiders is insured.
Through it all, Chuck Carbo is deeply appreciative of the attention and success he's enjoyed over the years. "To me, my fans are the greatest", he states. "I appreciate everything they've done for me over the years. I love them all." The United In Group Harmony Association is proud to honor Chuck Carbo and the Spiders with induction into its Hall Of Fame at the 9th Annual Awards Ceremony
---
HOME PAGE - ABOUT UGHA - MEMBERSHIP - PHOTO GALLERY - UGHA FAMILY - HALL OF FAME - MERCHANDISE
NEWS NOTES - TOP 500 - COOL LINKS - DIRECTIONS