This Webpage salutes the incredible array of performers that have appeared at UGHA concerts and is dedicated to one of the greatest performers of all time.....
Frankie Lymon
"We promise to remember"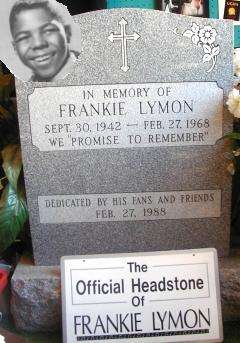 The Performers
One of UGHA's primary goals has been to locate and re-unite as many of the real pioneer R&B groups and solo artists as possible.  Many groups that have been silent for years and more significantly, members who have lost touch with each other have been reactivated and are enjoying another chance in the spotlight.  Groups such as the Dubs, Lillian Leach and the Mellows, Cadillacs, Kodaks, Teenchords, Chords, Four Fellows, Connie and the Decoys and many, many others were given that opportunity through the work of UGHA.
UGHA has also provided a springboard for hundreds of aspiring Acapella groups by giving them a venue to be heard and actually find new members to join a group.  The stories are numerous about new members being "found" singing in the parking lot after a show.   
Over the past 24 years there have been hundreds of legendary performers and newcomers who appeared at UGHA concerts.  Many of these show offered truly incredible moments, such as an appearance by Sonny Til & The Orioles, a special reunion of Jim McGowen and the Four Fellows, an historic appearance by the Golden Gate Quartet and even a visit by Paul Simon (he didn't sing but stayed the whole night to watch the show).     Take a look below at a truly awesome list of  performers who have performed at UGHA. 

Nicky Addeo, Ami & Her Fellas , Arrogants, Baby Washington, Balladeers, Base Harmony, Bay Bops, Billy & Essentials, Leon Peels & Blue Jays, Blue Sonnets, Bobbettes, Bon-Aires, BQE, Johnny Maestro & Brooklyn Bridge, Brooklyn Connection, Vicki Burgess (Charmers), Cadillacs, Calvanes, Camelots, Renee Hinton & Capris, Ernie Lee Warren & Cardinals, George Grant & Castelles, Catalinas, Cellos, Chalets, Chandaliers, Earl Lewis & Channels, Grady Chapman (Robins), Chantels, Cherokees, Chuck Carbo, Chaperones, Choice, Chords, Sandi I & Cliftonaires, Concepts, Corsairs, Creative Energy, Crickets, Herb Johnson & Cruisers, Jimmy Weston & Danleers, Debonaires,  Connie & Decoys, Lenny Dell & Demensions, Harry Douglas & Deep River Boys, Delmonicos, Del-Vikings, Delroys, Ira Tucker & Dixie Hummingbirds, Duprees, Echelons, Ecstasies, Edsels, Elavations, Elgins, Emotions,  Della Griffin & Enchanters, Eternals, Excellents, Bob Knight Four, Desires, Dreamlover's, Dubs, Duprees, Fantastics, Johnnie Staton & Feathers, Five Delights, Five Discs, Five Jades, Rudy West & Five Keys, Five Sharps, Five Willows, Flamingos, Four Dots, Four Fellows, Four J's, Fourteen Carat Soul, Four Sevilles, Heart's Desire, Harborside, Harptones, Linda Hayes, Heartspinners, Impalas, Infernos, Jarmels, Jesters, Jewels (female), Jive Five, Johnnie & Joe, Joytones, Herb Kenny (Ink Spots), Keystoners, Kodaks, Laddins, Lar-Kings, Limelites, Little Isidore & Inquisitors, Magic Moments, Johnny Maestro, Johnny Keyes & Magnificents, Marcels, Marquees, Ruth McFadden, Arthur Lee Maye, Vernon Green & Medallions, Mello Notes, Lillian Leach & Mellows, Monotones, Moodmakers, Moonglows, Mixed Company, Neighbor's Complaint, Harold Jayne & Nutmegs, Olympics, Originals, Orioles, Ovations, Paragons, Paramounts, Parkway, Cleve Duncan & Penguins, Patti & Streetones, Kenny Vance & Planotones, Platinums, Playground, Prime, Quotations, Rainbows, Ravens, Reality, Regals, Remaining Few, Renditions, Reunion, Revels, Revival, Ribitones, Rick and Masters, Riffs, Gene Pierson & Rivileers, Norman Fox & Rob Roys, Little Ceasar & Romans, Royal Jokers, Sapphires, Bill Baker's Satins, Selections, Sentinels, Serenaders, Shallows, Shells, Sheps, Silk, Skyliners, Solid Gold, Solitaires, Spaniels, Sparrow's Quartet, Special Delivery, Special Affair, Stardust, Strangers, Students (Philly), Sultans, Sunbeams, Eddie Rich/Junior Denby & Swallows, Jimmy Castor & Teenagers, Teenchords, Richard Lanham & Tempotones, Things To Come, Tokens, Uniques, Valentinos, Variations, Velons, Velours, Velvet Riffs, Vibranaires, Joey Villa (Three Friends), Vito & Salutations, Joe Duncan & Vocaleers, Ray Pollard & Wanderers, Bobby Mansfield & Wrens, Otis Williams, Yesterdays New's, Yesterday's Today, Youngsters.
 (Apologies to any group (s) that were left off in error)

---
HOME PAGE - ABOUT UGHA - MEMBERSHIP - PHOTO GALLERY - UGHA FAMILY - HALL OF FAME - MERCHANDISE
NEWS NOTES - TOP 500 - COOL LINKS - DIRECTIONS